The world is buzzing with speculation on what has changed the nuclear position of North Korean leader Kim Jong-un.
Some in the United States government believe the sanctions the administration has implemented against North Korea are having an affect. President Trump has engaged in a war of words and threats with North Korea, and received the same in return. Did all the saber rattling from the United States really influence North Korea's position on nuclear weapons? Is this just a political trick like Kim Jong-un's father, Kim Jong-il, used back in 2000 to obtain much needed funds for North Korea?
Then maybe it is a case of Kim Jong-un taking advice from China, to become a true political player in the region. Since North Korea now has nuclear weapons, they hold a better hand when approaching the negotiation table.
But what if there was another reason. What if Kim Jong-un has no other choice?
~~~~~
The change in diplomatic efforts from North Korea has been a series of slow steps toward where they are today.
In January 2018, during Kim Jong-un's New Years speech, the text contained a mixture of threats and hints of reaching beyond borders.
To the United States, the North Korea leader tossed words of threat, saying, "The entire United States is within range of our nuclear weapons, a nuclear button is always on my desk. This is reality, not a threat."
It was words of a softer stance which Kim Jong-un used to address South Korea, saying "North Korea's participation in the Winter Games will be a good opportunity to showcase the national pride, and we wish the Games will be a success. Officials from the two Koreas may urgently meet to discuss the possibility". What followed was North Korean athletes indeed competing in the 2018 Winter Olympics held at Pyeongchang, South Korea.
Then an invitation to South Korea's president Moon Jae-in was delivered during the Games by Kim Yo Jong, the North Korean leader's younger sister and close aide. Interest was expressed for shared talks between the two leaders to be held in Pyongyang.
At this time in February 2018, a few news outlets raised the question of whether this softening of tone from North Korea could lead to peaceful reunification of the two Koreas, but all conceded that the firm grip North Korea kept on its nuclear program would make that ultimately impossible.
Through March 2018, discussions continued regarding the proposed summit between the two Korean leaders. Finally a date was decided for this face-to-face meeting. The summit between North Korean leader Kim Jong-un and South Korean President Moon Jae-in is scheduled for 27 April 2018.
It will be a historical event, as the leaders of the two Koreas have only held talks twice since the 1950-53 Korean War and the Korean Armistice Agreement was signed.
Another historical event happened on 20 April 2018, when North Korea and South Korea installed the first-ever hotline between Kim Jong-un and Moon Jae-in, a step seen as another sign of improving relations on the divided Korean Peninsula.
~~~~~
But wait, March 2018 got even busier, with Kim Jong-un making an unannounced visit to Chinese President Xi Jinping, an action which caught the United States and the world off guard. This was Kim Jong-un's first known trip outside North Korea since taking power in 2011.
Chinese analysts think Kim Jong-un's purpose for visiting China was to give the impression to the United States that China would have his back in the upcoming denuclearization summit. It should also be noted that President Xi Jinping accepted an invitation from Kim Jong-un to make a return visit to Pyongyang soon.
Now let's add the United States into this mix.
Seems that North Korean leader Kim Jong-un had also reached out via invitation to the United States during this time period, indicating an interest in talks about the denuclearization of North Korea. This was announced on 8 March 2018, by the White House, and soon after, President Trump publicly endorsed holding a North Korea–United States summit, with the scheduled date to be in late May 2018 to early June 2018.
To show their seriousness for this summit meeting, North Korea announced they had dropped the demand for the departure of the 28,000 United States troops stationed in South Korea. The United States responded that this action was never even considered, and was therefore, never going to be on the negotiation table. The sparing was still happening, just in a more subtle way.
~~~~~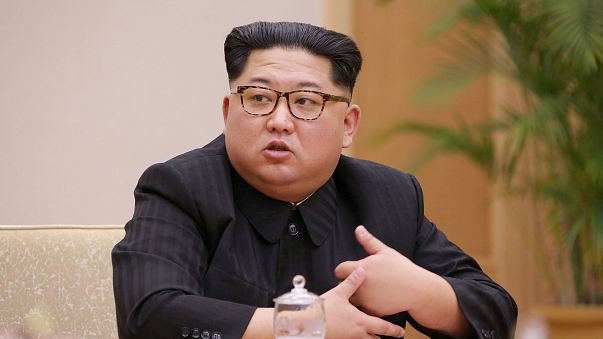 This month, the words coming out of North Korea from Jim Jong-un have continued to focus on the denuclearization summit with the United States, but include statements which exhibit the strong interest North Korea now has in ending their nuclear weapons program.
The following words (a translation) were presented via North Korean state run television.
"As of 2018, April 21, we suspend all nuclear and ICBM tests. To transparently carry this out, we will shut down the northern nuclear test site. With the understanding that the suspension of nuclear tests is an important step towards worldwide nuclear disarmament, we will join the international mission and efforts to stop all nuclear tests."
In an earlier statement released on the same day, Kim Jong-un announced that his country no longer needed to test nuclear weapons or long-range missiles, and would close a nuclear test site. "The nuclear test site has done its job," Kim Jong-un said in a statement carried by North Korea's state media.
It should also be noted that since the 1 January 2018, talk of future nuclear testing has stopped, and the North Korean news agency is no longer showing images of Kim Jong-un inspecting the nuclear testing facility. There has also been even a whisper of the earlier hint to do an above-ground nuclear detonation.
~~~~~
After the 3 September 2018 nuclear detonation, the once stable area around the Punggye-ri nuclear test site became totally unstable, with a continuing series of small tremors in the region and landslides detected via satellite images. These disturbances are more numerous and widespread than seen after any of the previous North Korea nuclear tests.
3 September 2017 — Nuclear test caused 6.3 magnitude earthquake
23 September 2017 — China Earthquake Administration reported a 3.4-magnitude tremor
13 October 2017 — USGS reported a 2.9-magnitude tremor
2 December 2017 — A 2.5-magnitude tremor
Early February 2018 — A 2.6-magnitude tremor
—
Then there is this 11 January 2018 article from the site 38North which contains a series of copyrighted satellite images showing the Punggye-ri nuclear test site and all the activity there.
Recent December 2017 satellite imagery indicated the North Portal tunnel at the the Punggye-ri nuclear test site remained dormant, but at the West Portal tunnel, there had been an increase in tunnel excavation, with numerous mining carts visible. There could be seen a significant increase in the size to the spoil pile containing the removed debris.
To further add to the mystery, large numbers of personnel holding formation were observed in the Southern Support area at the site. The 38North article indicates, "It is rare to observe personnel in this area and the purpose of their activities is unknown."
~~~~~
What if Mother Nature has already stepped forward and put an end to the North Korean nuclear testing program?
What if the sixth and most powerful nuclear test conducted by North Korea on 3 September 2017 so severely damaged the geological structures in the area of the Punggye-ri test site that the facility and tunnels all collapsed?
What if Kim Jong-un no longer has a working/functioning nuclear weapons laboratory at the Punggye-ri test site? What if the disaster also claimed the scientists involved in the nuclear weapons program?
If this is true, then the real question is if Kim Jong-un still has a nuclear weapons arsenal to use in the future. Based on all the sudden efforts made by North Korea to open dialogues with South Korea and the United States, and to repair communications with China, Kim Jong-un may no longer have many or even any nuclear weapons to launch.
North Korea may no longer have a working nuclear program, capable of creating new nuclear weapons, making the need for Kim Jong-un to protect North Korea in a different way all the more important.
We encourage you to Share our Reports, Analyses, Breaking News and Videos. Simply Click your Favorite Social Media Button and Share.