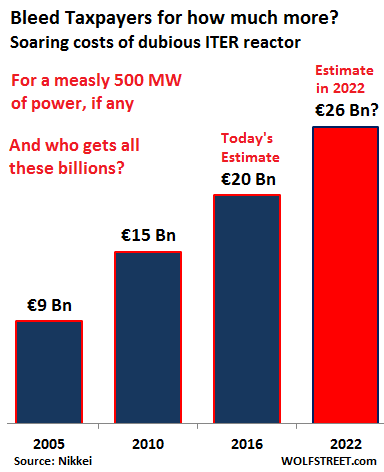 wolfstreet.com / by Wolf Richter • October 15, 2016
How the Nuclear Energy Lobby Eats up Global Taxpayer Billions
The well-funded lobbyists of the powerful nuclear energy industry are tirelessly working over governments around the world. Occasionally, there are minor setbacks, such as Fukushima or the current multi-billion-dollar scandal around the decommissioning costs of California's San Onofre nuclear power plant, that threaten to expose just how horridly expensive nuclear power really is for taxpayers, ratepayers, and other stakeholders, from conception of the plant to final decommissioning and proper disposal of nuclear waste and contaminated materials – none of which has yet been accomplished and paid for.
But here's the project that was first conceived in 1985, is still far from completion, and has now thrown back the date of first power generation to 2035, if it can ever be accomplished, and there are grave doubts it can.
The hoped-for experimental power generator would be a capacity of a measly 500 megawatts, or about the capacity of 62 top-notch wind turbines, generating electricity in places like West Texas and the Oklahoma Panhandle. A farmer can put up a few of those on his fields for extra income. At an installed cost of about $1.5 million per MW capacity, a utility-scale project of that size might cost $750 million. And the wind is free.
The post Biggest Nuclear Boondoggle Ever: Taxpayers, Pull out Your Wallet, Costs Exploded Again appeared first on Silver For The People.
Source:
http://silveristhenew.com/2016/10/16/biggest-nuclear-boondoggle-ever-taxpayers-pull-out-your-wallet-costs-exploded-again/
We encourage you to Share our Reports, Analyses, Breaking News and Videos. Simply Click your Favorite Social Media Button and Share.