Headline: Bitcoin & Blockchain Searches Exceed Trump! Blockchain Stocks Are Next!
wolfstreet.com / by Wolf Richter • Feb 13, 2017
A few "success stories" overshadow "very anemic activity."
Companies needing to lease office space in New York City get this piece of advice by global real-estate service provider Savills Studley in its Q4 report:
"Companies need to drown out the noise and ignore real estate's own version of fake news – the threat that demand is as strong as ever and rent will always rise."
Turns out, despite the hype of the industry, the vaunted and ludicrously expensive office space market in New York City peaked somewhere between the end of 2014 and mid-2016, both in terms of sales and leasing.
The number of sales of office buildings in 2016 valued at over $5 million plunged 16% from a year earlier to just 128 buildings, the lowest since 2013, according to a report by CommercialCafé, a sister company of Property Shark (transactions recorded up until Jan. 25, 2017):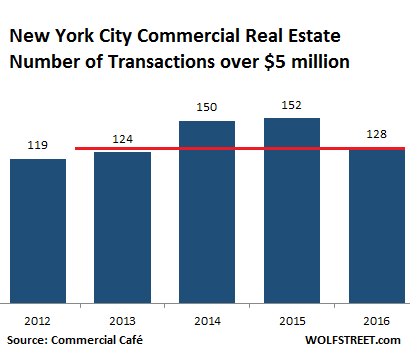 The post The Most Expensive Office Market in the US Fizzles appeared first on Silver For The People.
Source:
http://silveristhenew.com/2017/02/13/the-most-expensive-office-market-in-the-us-fizzles/