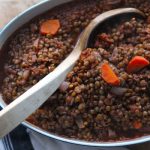 (NaturalHealth365) While lentils are often overlooked and underappreciated for their amazing health benefits, you may want to consider adding this legume into your diet as much as two times per week. This "elite" legume has been studied and proven to reduce the risk of breast cancer by an astounding 24%.
Not only does this super powered legume help slash the risk of cancer it also helps combat metabolic syndrome – which is something that nearly 34% of Americans suffer from today which can lead to cancer as well.
So, let's take a closer look at what research is showing and how lentils are being regarded at one of the most potent foods to reduce the risk of certain cancers.
Prevent breast cancer by eating lentils
The health benefits of lentils are pretty amazing, and among the most impressive health benefits is the ability for this legume to specifically reduce the risk of breast cancer. A study published in the International Journal of Cancer assessed the relationship between flavonol intake and breast cancer risk by studying over 90,000 premenopausal women.
The women were studied for eight years, and the study found a remarkable connection between the women who included two servings of lentils into their diets each week as opposed to those who did not. Simply put, the group that ate lentils had a much lower risk of developing breast cancer!
How lentils can prevent cancers of the digestive system
As if the previous study wasn't impressive enough, other studied such as studied done by Norwegian scientists found a link between lentil consumption and a reduction in cancers of the upper digestive tract.
The scientists studied legume intake in 3,539 cancer cases and found that the higher intake of lentils decreased the risk of cancer of the mouth, esophagus, throat and larynx by about 37%. Other studies have found that colon cancer risk can also be decreased by a whopping 47% by adding this legume into your diet! The fiber content in lentils is also thought to aid in the prevention of colorectal cancer.
Prostate cancer is also currently being studied to determine if prostate cancer risks would decrease with lentil intake as well, and a 6-year study found that men who ate three or more serving of lentils per week reduce their prostate cancer risk in half!
Selenium content in lentils prevents cancer
Selenium is a mineral and is quite abundant in lentils. It's difficult to find foods rich in selenium which is why this particular legume is a great addition to your diet, but why does this benefit your health?
This mineral has been known to reduce inflammation, decrease tumor growth, and has the ability to stimulate the production of killer T-cells – which improves immune function in response to infections. All of these are essential components in fueling your body with nutrients it needs to combat cancer, giving lentils one more health benefit to rave about.
How to start adding lentils into your diet
If you want to reap all of the benefits of lentils, you will likely want to know the best ways to include them in your diet. Start by adding them in at least twice per week, as research has found that enjoying this legume two to three times per week comes with cancer protective health benefits. Here are some creative ways to get more of this legume into your diet.
• Add lentils to soups and stews
• Make a "meat" sauce made with lentils and homemade tomato sauce
• Toss into a salad
• Make a healthy lentil dip by mashing some lentils, garlic, onion, and spices of choice.
References:
http://www.medicalnewstoday.com/articles/297638.php
http://www.lifeextension.com/Magazine/2013/9/Lentils-The-Elite-Legume/Page-01
Food & Nutrition
Natural Health 365
Natural Health 365 is a premium source of trending and popular health-related news, science, testimony & research articles on the most up to date and relevant natural health information. The Food & Nutrition articles found herein are meant to inform and advise our site visitors on eating healthy, nutritious foods and safely using supplements and vitamins to achieve optimal health.
Join thousands of daily visitors staying informed and involved on Natural Health 365! We seek out scientific solutions with proven results and it is our mission to keep you informed! Articles range in topic from the cancer fighting qualities of Olive Oil, to the remarkably high concentration of anti-oxidants found in blueberries, to how to make your own almond milk, to a nutritional comparison of organic vs conventional produce, to an analysis of the health benefits of tree nuts. You can find all of the Food News Articles here
Read Some of Our Most Popular Articles
Artichokes, Olive Oil, Almond Milk, Blueberries
---
---
Food News is one of our major post categories on www.naturalhealth365.com and contains over 350 articles that cover a wide range of subjects; including but not limited to…
Food News
More Food & Nutrition Articles
Fresh Organic Produce Fights Cancer, Susan G. Komen on Organic Foods, Hemp Seeds for Inflammation, Pau D'Arco For Improved Immunity
In addition to exploring health benefits of certain foods, vitamins and supplements, we also aim to connect healthy eating and balanced consumption of dietary supplements to long-lasting health and adding healthy, happy years to your life. For example, did you know that eating Granny Smith Apples on a regular basis can reduce your chance of building up unhealthy gut yeast? Or that ingesting ground hemp seeds can significantly reduce inflammation throughout the body? Perhaps you didn't know that Fresh Organic Produce has been found to have higher concentrations of key, cancer-fighting anti-oxidants and vitamins than conventional produce? You can find all of that information and more right here on Natural Health 365.
We'd love to know what you're thinking! Please join the conversation on Facebook, post comments here on the website and feel free to reach out to us if you have any questions.
Please use and share the articles you find here with your friends, family and peers.