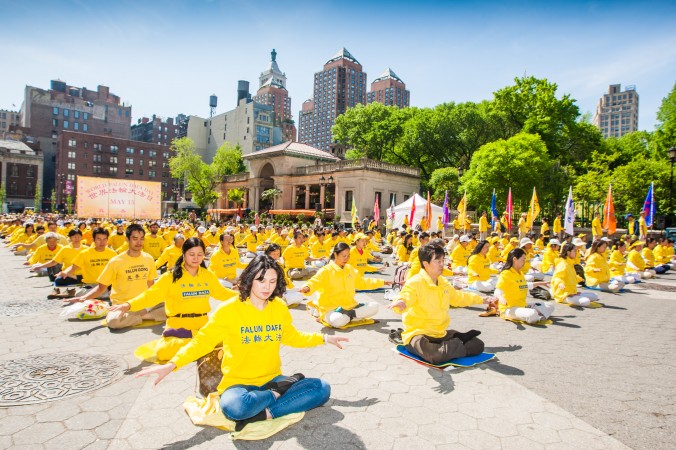 Falun Gong practitioners meditate at Union Square in New York as they celebrate World Falun Dafa Day on May 12, 2016. (Youzhi Ma/Epoch Times)
If you've ever seen a large gathering of Falun Dafa practitioners at a parade or in a park, you probably noticed that the vast majority of them are Chinese. This makes sense, because Falun Dafa (also called Falun Gong) is a Chinese meditation discipline.
However, you might wonder, "Are there very many non-Chinese people who practice Falun Dafa? Is it open to, say, Westerners?"
The answer is yes, definitely. Falun Dafa has benefited countless people from all over the world and all walks of life. I am one of them. I'm a Westerner in the United States.
I have also met Falun Dafa practitioners from Canada, Romania, Vietnam, Korea, and India; I've corresponded with ones who live in Australia and New Zealand; and I've read about ones in Africa, South America, Sweden, the United Kingdom, Russia, France, Japan, and many other places.
Why do so many different people practice Falun Dafa? Those who have practiced it (including me) report that its exercises and principles vastly benefit their health, character, and relationships with others. Because of the practice, I no longer have to take anxiety medicine, and I have more patience and tolerance when handling conflicts.
It's very common to hear people say that they tried many different methods to improve their health or their lives, and in the end it was Falun Dafa that really helped them.
Practicing Falun Dafa involves doing four standing exercises and a sitting meditation, as well as reading the books by Falun Dafa's founder, Mr. Li Hongzhi. The main book, Zhuan Falun, explains the practice and how one can become a better person by following the universal principles of truthfulness, compassion, and forbearance.
The practice was first made public in 1992; before that, it was taught only in private, passed down from antiquity through a single disciple. Tens of millions of Chinese people began to practice Falun Dafa in the 1990s. By now, Falun Dafa books have been translated from Chinese into a long list of languages.
If you have been thinking of taking up meditation or seeking a method of self-improvement, don't let your language or ethnicity stand in the way of learning more about Falun Dafa to see if it's right for you. If you aren't well-versed in Eastern culture and have a little trouble understanding Zhuan Falun, you can try reading the introductory book Falun Gong first. Both can be read for free at falundafa.org, or purchased online.
If you aren't into meditating, it's still a good idea to educate yourself about the persecution of Falun Dafa in China. The Chinese Communist Party discovered in the late 1990s that there were more Falun Dafa practitioners than there were Party members. In 1999, the Party began a violent campaign of harassment, torture, killing, and hate propaganda against practitioners of Falun Dafa in China.
The campaign has continued to this day, and it affects us all. For more information about that, visit faluninfo.net/worldwide-impact.
---
---
---
We encourage you to Share our Reports, Analyses, Breaking News and Videos. Simply Click your Favorite Social Media Button and Share.