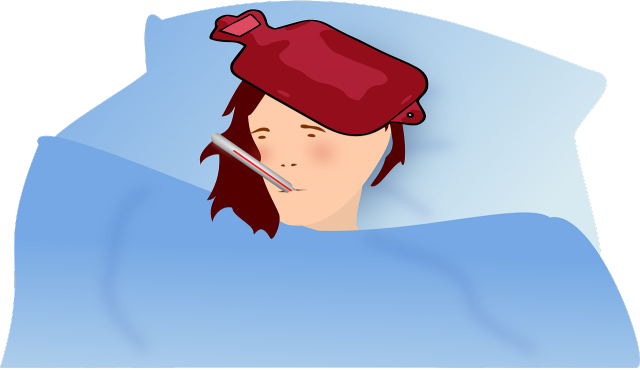 Winter is upon us, and that means Christmas, snow and… flu. Flu – formerly known as influenza – is a contagious illness, spread, unbelievably, by the influenza virus. The resulting symptoms can be mild to severe, and include a high fever, runny nose, sore throat, muscle pains, headache, coughing, and feelings of drowsiness. Also possible, but rare in adults, are vomiting and nausea.
You don't want to be laid up in bed over the Christmas period, but don't fear: there are a few things you can do to stave off illness this winter. Simple actions can halt the flu in its tracks and let you savour and enjoy the most wonderful time of year. Here are four easy ways reduce your risk of catching the flu this festive period.
Flu Vaccine
The most effective way to prevent the flu is, without a doubt, to get vaccinated. The flu shot isn't completely effective (some sorts of flu aren't affected by it), nevertheless, it is the strongest method by which to reduce the risk of flu. The vaccine is completely free on the NHS to the most vulnerable to flu (Children, people over 65, and adults with a weaker immune system or other medical conditions).
If any of those factors apply to you, or you're merely keen to keep flu away, then explore whether you could get the flu vaccine. That way, even if the rest of the precautions listed here fail, you have a backup option to keep you protected from flu all season long.
Washing Your Hands
It takes less than a minute out of your day, and yet washing your hands has a potent effect when it comes to the prevention of illness. A million lives could be saved every year if everyone were to wash their hands after using the bathroom, sneezing, coughing, or if they are preparing or eating food.
Hand washing tackles illness by killing bacteria. Most types of bacteria are not adapted to survive against water, and antibacterial gel kills those which can withstand it. For germ-free hands, wash, using fresh, not already used, hot water and a copious quantity of soap, then take care to dry your hands well – not drying can be just as bad as not washing your hands at all.
Avoid Close Contact
Close contact with people who have the flu is a sure fire way to catch it. Keep some distance. The illness is highly contagious, and is air-borne and spread through contact, such as kissing, hugging, hand holding, shaking hands, or any other interpersonal contact. Once on your skin, the germ can pass into the bloodstream via cuts or by a person putting their hand in their mouth.
If someone you know has the flu, try not to get too close for a wee while. Absolutely still spend time with them, but without any form of contact that could spread germs. And don't be afraid to politely ask them if they could cover their mouth and nose when coughing or sneezing. This catapults germs into the air, resulting in the inhalation of them, and is a crucial way in which bacteria spreads. Ensure bacteria is caught and then immediately washed off to reduce the spread of flu this Christmas.
Fresh Air is Important
You will, naturally, begin to close the windows and turn up the heating as the weather begins to cool, only going outside if absolutely necessary. But maybe think again, because this can increase the chance of ill-health. Hot rooms with little air circulation, resulting in stale air of a comfortable temperature, are breeding grounds for bacteria.
Brave the cold and leave windows open to ensure constant circulation of fresh air, which will dilute the concentration of, dispel, and may even kill, harmful germs. This is a simple and crucial way to defend yourself from the flu this winter. Just wear extra layers. It'll be worth it to have Christmas memorable for something other than being miserable due to the flu.
We encourage you to Share our Reports, Analyses, Breaking News and Videos. Simply Click your Favorite Social Media Button and Share.