Hackers Faking Ties to Trump says Russia's Largest Private Commercial Bank
| | |
| --- | --- |
| | ALFA GROUP CONSORTIUM IS ONE OF THE LARGEST PRIVATELY OWNED FINANCIAL-INVESTMENT CONGLOMERATES IN RUSSIA |
The new press release from Alfa Bank, the largest privately owned commercial bank in Russia claims it is not tied to the Trump Organization. This announcement was made following the recent reports of FBI again, starting the investigation of computer links between these two.
Alfa Bank says that there has been a "false impression" of ties to the Trump Organization as a result of new cyber-attacks this February and March on the bank's computers. These attacts have been repeatedly bombarding the Trump Organization's servers with DNS-requests from servers that actually are located in the United States.
According to the bank's representatives, the hackers have been sending DNS reverse lookup requests in order to make it look as if they were coming from Alfa Bank.
"Alfa Bank confirms that it appealed to U.S. law enforcement agencies for assistance in finding the people behind the cyber-attacks on its servers, which lead to the false impression that Alfa Bank is working together with the Trump Organization," the press release stated.
CNN has reported earlier this month that the U.S. federal investigators are still examining the "odd" computer connections between the Russian Alfa Bank and the US Trump Organization.
November 2016, The New York Times had reported on an earlier FBI investigation into the same matter, saying officials have "ultimately concluded that there could be an innocuous explanation, like a marketing email or spam for the computer contacts".
Link to the original press release by the Alfa Bank is here.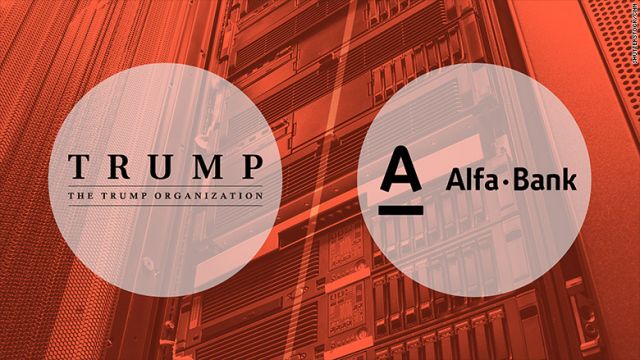 We encourage you to Share our Reports, Analyses, Breaking News and Videos. Simply Click your Favorite Social Media Button and Share.