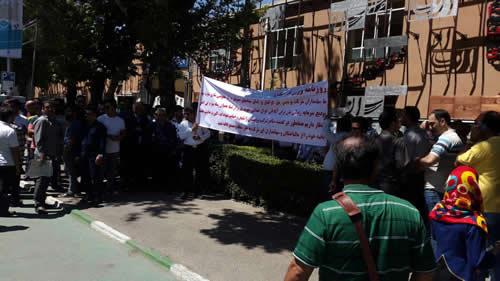 The situation of highlights depravity of Iranian regime
The "Situation of human rights in the Islamic Republic of Iran" the abuses carried out by the fundamentalist, theocratic regime. about escalating executions, floggings, arbitrary arrests and detentions, unfair trials, denial of access to medical care and torture and ill-treatment.
and about continued restrictions of public freedoms and the related persecution of civil society and human rights actors, the persistence of discrimination against women and religious and ethnic minorities and the appalling conditions of Iran's prisons.
Revealed the barbarous depravity of the regime, with more than 3,000 hangings since the so-called 'moderate'President Hassan Rouhani took office three years ago. Recently 25 Sunni Kurds were hanged in a single day. Rouhani justifies such barbarity by saying that the death penalty is God's judgment on offenders. Nevertheless juveniles and women are regularly hanged, often in public and medieval punishments such as amputations, eye gouging, and lashing are commonplace.
For years the EU and the US have sought to appease the oppressive theocratic regime in Iran and their regional allies, in the flawed belief that acceding to the demands of the mullahs would secure lasting peace. But meanwhile the venomous Iranian spider has taken every opportunity to weave its menacing web across vast tracts of the Middle East, fomenting the spiraling sectarian conflict between Shi'ias and Sunnis, destabilizing the region and threatening world peace. Tehran backs Bashar al-Assad in Syria, the terrorist group Hezbollah in Lebanon, the Houthi rebels in Yemen and the brutal Shi'ia militias in Iraq.
Source care for Humans in Iran
Extarcted from Humans rights speecher
We encourage you to Share our Reports, Analyses, Breaking News and Videos. Simply Click your Favorite Social Media Button and Share.