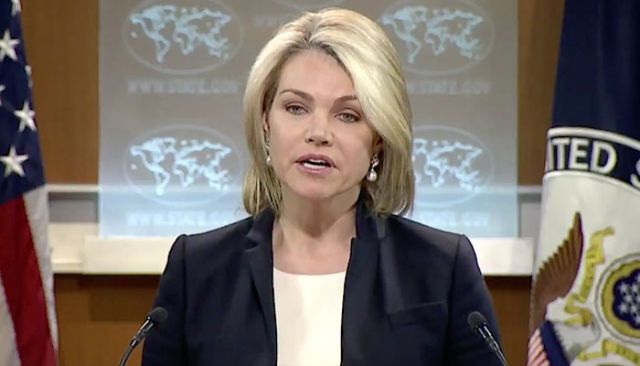 The Trump administration has pulled the United States out of the Joint Comprehensive Plan of Action (JCPOA), an agreement between Europe, the U.S., and Iran to curb its development of nuclear weapons. President Trump was vocal in his opposition to the agreement and repeatedly points out that it was flawed. In May 2018, he officially pulled the U.S. out by not waiving the sanctions based on Iran's compliance with the agreement. Now, Europe is trying to hold together the agreement, while companies are pulling out of Iran in anticipation of the U.S. sanctions coming back in force.
In a recent briefing on June 21 by the State Department's spokesperson, Heather Nauert, there were several questions regarding Iran that seemed meant to define the policy of this administration even further. One such question focused around human rights issues, particularly ethnic minorities.
"I think always underscoring and highlighting the rights of minority groups is something that's important, whether it's in Iran or whether it's in Iraq or many other countries as well," said Nauert. She also highlighted that the rights of minorities need and should be respected in China.
Another question related to a few tweets by the Secretary of State regarding Iran. When questioned about what message the Secretary was trying to convey, Nauert focused on the protests throughout Iran.
"We have seen the Iranian population tremendously concerned with their lack of economic progress. We've seen the Iranian regime pledge that regular Iranian people would see the benefits of their economy, and they certainly have not seen that, they've not experienced that. So we start to see people express their frustration through freedom of speech, through these types of protests, and I think – just highlighting the fact that those continue. We've seen people continue to be oppressed there. Women who protest the forced wearing of a hijab, they protest. We've seen some thrown in prison. Iranians appear to be increasingly frustrated, and I think he's merely pointing that out," said Nauert. However, she stopped short of calling for regime change, stating that the U.S. was seeking a change in the regime's behavior.
The United States is acknowledging the reality of the protests in Iran, and it is clear that with the reinstatement of various sanctions, the Trump administration is anticipating that the protests will only increase. It is also clear that the administration does not want to commit to regime change, but they are showing passive support for the Iranian people. It does not appear that the U.S. will be committing military assistance to the Iranian people at this time, but no one knows what the future will hold.
We encourage you to Share our Reports, Analyses, Breaking News and Videos. Simply Click your Favorite Social Media Button and Share.