Whales dead in mass beaching
February 5, 2011
At least 14 whales from a pod of more than 80 beached on the New Zealand coast have died, with officials fearing others may be stranded elsewhere after freeing themselves on Saturday.
Department of Conservation staff were searching beaches west of the South Island tourist city of Nelson looking for survivors.
"We don't know whether they have managed to swim safely (out to) sea or whether they may have stranded somewhere else along the coast," department spokeswoman Trish Grant said.
New Zealand residents rush to try and save pilots whales stranded at Puponga Point in Golden Bay. Photo: Stephen Amos/Nelson Mail
Residents at Farewell Spit, 150 kilometres from Nelson, said the whales began beaching themselves early on Friday afternoon.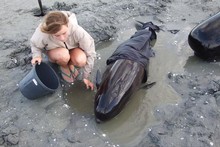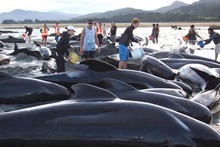 Conservation staff rushed to the area to keep the whales cool and hydrated in the afternoon sun but 14 had died before they refloated themselves on a midnight..Contunue…theage.com.au
If you read and see links, you will see well over 200 whales have died this past year here….
24 dead Pilot Whales Dead on a Remote Beach in the Far North of New Zealand *UPDATE*VIDEO*
To Mass Animal Death on Saturday, January 29, 2011 >>> Click here…
Australia: Corexit EC9500 and Corexit EC9527A Used, Activists Claim 8 Deaths, Fish Kills Linked to the Dispersant's !
To Gulf Oil Spill on Wednesday, November 03, 2010 >>>Click here…
Many Fishermen are Now Turning to Illegal Ways of Making a Living
To Gulf Oil Spill on Wednesday, November 17, 2010 >>>Click here…