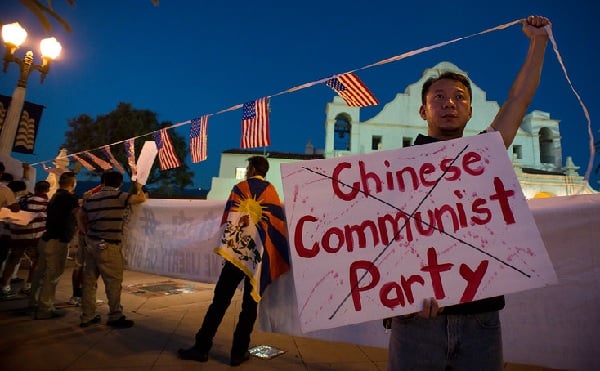 Protest at China Long March event in San Gabriel, CA (Pasadena Star-News)
Last week in "Chinese Propaganda Comes to Southern California," I reported on a planned song and dance performance commemorating the 80th anniversary of the Long March of the Red Army of the Communist Party of China to be presented at the San Gabriel Mission Playhouse in San Gabriel, California. As predicted, the performance on October 8 was met with protest by Chinese Americans and human rights activists.
To begin with, "tempers flared and a fight nearly broke out" at a San Gabriel City Council meeting on October 4, as about fifty protesters demanded that the event at a city-owned venue be cancelled. "I'm giving testimony that the Chinese Communist Party encourages people to hate and be violent," said protester James Yu of West Covina. "These are very unfitting values for the United States of America." Yu said that he had left China "to escape persecution by the communist regime, and seeing the party as the focus of a gala in San Gabriel was deeply upsetting."
The event was not cancelled, thanks to the First Amendment right of free expression which does not exist in China under Communist Party rule. However, a rental fee waiver for the Mission Playhouse requested by the event's organizers was denied due to its overtly political nature. In addition to the rental fee, organizers were required to pay the cost of policing the event. As reported last week, the organizers of the event have a history of pro-Beijing activities that includes making pro-government statements in Chinese media and organizing a forum in Los Angeles to commemorate the 95th anniversary of the founding of the Chinese Communist Party.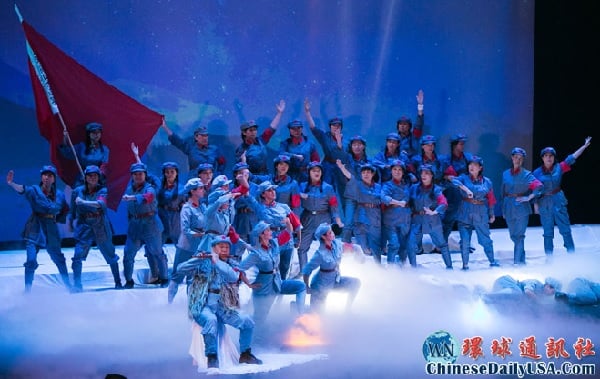 Long March 80th anniversary gala, San Gabriel CA (Chinese Daily USA)
On the night of the performance, protesters gathered again outside the Mission Playhouse (see photos). "People are free in America," said protester Kai Chen, "If someone wants to hang a picture of Hitler or Mao in their bedroom, they're free to do that." Chen said he hoped, however, that "attendees would learn from what the protesters have to say about the Chinese Communist Party's authoritarian practices." Said fellow protester Ted Brown, "To celebrate the Long March is to celebrate Mao Zedong…. While Mao is gone, Chinese people are still oppressed in the same ways as during his regime."
Pro-government Chinese media reported that the Chinese consul-general in Los Angeles was among those attending the event, and lamented as "unfortunate" the controversy stirred up by "so-called 'dissidents'."
The post China Long March Event Met with Protest in California appeared first on Foreign Policy Blogs.
Source:
http://foreignpolicyblogs.com/2016/10/13/china-long-march-event-protest-california/
We encourage you to Share our Reports, Analyses, Breaking News and Videos. Simply Click your Favorite Social Media Button and Share.