Back in July, Twitter announced that they were launching a form to apply for verification. For those who aren't aware, the "verified badge" is used to show that an account on the platform is authentic and the true source of information pertaining to the individual or brand to which the account belongs. Over the course of time, however, the little checkmark became a divisive symbol of elitism and inequality, a direct reflection of society offline. Everything is divided into classes. This may or may not have been the intent behind Twitter's verification program, but the phenomenon surrounding the coveted badge is undeniable.
It seems lately that Twitter is taking a lot of heat from its users and the media, alike. The platform can't seem to get it together, even making an embarrassing move like suspending the account of CEO Jack Dorsey, sparking an embittered conversation amongst users regarding the frequency of accidental freezing of accounts, shadow-banning, and internal blacklists. Their processes are anything but transparent, but that's the nature of proprietary processes for the privileged.
I'm not a famous pop star and I am not a mainstream media outlet. I'm not the "general public" (as Twitter politely calls the nobodies) either. I'm not delusional. I don't expect the world to hand me validation. I've worked hard to get where I am. I am a personal brand; public figure in the music industry, tech industry, and freelance writer for hire. This isn't a dig at people who are verified, as I have plenty of friends who are. This is an exploration of the automated system that Twitter uses to handle their verification requests.
The process seems simple enough. If you feel that you qualify for verification on Twitter, you can fill out the form at this link: verification.twitter.com (be sure to sign in with the account you wish to have verified before beginning the process). The form will walk you through everything that you need to have in place and there are tons of articles that explain how it works.
In my experience, I have been denied verification five times. In spite of providing links for social proof and newsworthiness, both as the subject of articles and as the writer of articles, Twitter has deemed that I am not worthy. Each time I've applied, I have had another (new) article posted about my work in music to add as part of the five they ask for when applying. The coverage keeps coming because I am continuously active.
After the first two times I was denied, I decided to experiment with the process. I've got nothing to lose, after all. I noticed a pattern, which led to finding evidence that this process doesn't seem to be moderated by a person, or people, but rather yet another algorithm that filters accounts based upon certain metrics, and not entirely on the merits of the applicant. I tried different angles, combinations of articles written about me, my music, affiliation with Sony Music, business profile on Crunchbase, Wikipedia, AllMusic, IMDb, everything. I made cases based upon being verified on Facebook, Spotify, Shazam, and being invited to use celebrity-centric platform WhoSay. If you Google my stage name, "D. S. Bradford," this is what you see: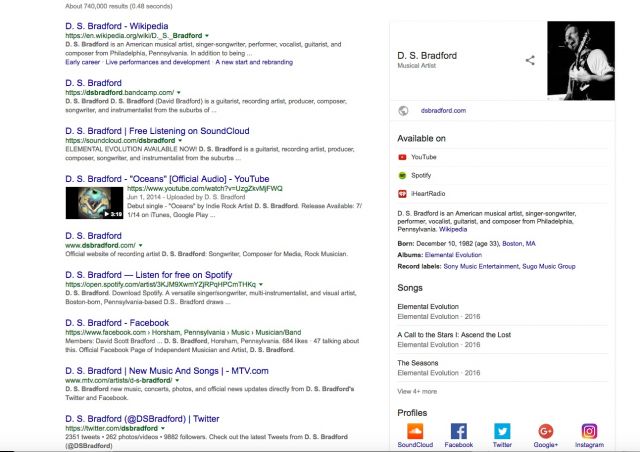 It would be fairly easy to tell that I have created a name and a brand for myself as a music artist, entrepreneur, and now — as a writer. I've had moderate success and am comparable to others in my field, some of whom are verified. This would all be easy to see if all of this information is being evaluated by a human being, but that isn't the case.
Every 30 days since the very first denial, I tried again. I kept track of the time that passed after each application. Like clockwork, the denial email landed in my inbox 48 hours later. Every. Single. Time. Frustrating? Sure. Hilariously telling? Even more so. See, the thing is that Twitter is not an equal opportunity verifier (E.O.V.) The denial email timing is the red flag that has alerted me to the automation of the whole operation. Perhaps the company's recent layoffs resulted in the decision to let a bot dictate a human being's worthiness. In any case, the amount of times that this has happened to other people, as well as myself, has raised suspicions that something is afoot with the way they handle everything — from verification to account suspensions.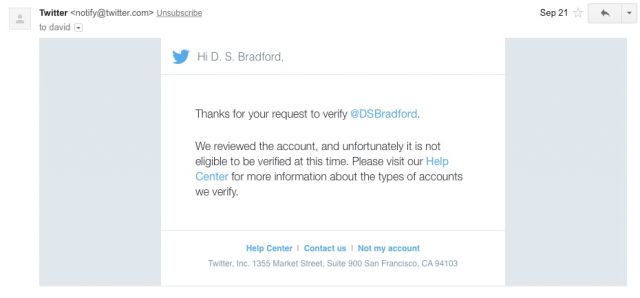 Applied 9/19 – Denied 9/21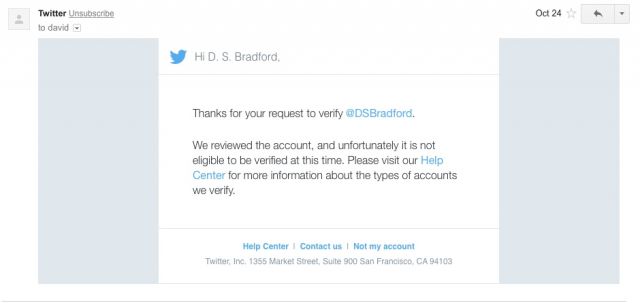 Applied 10/22 – Denied 10/24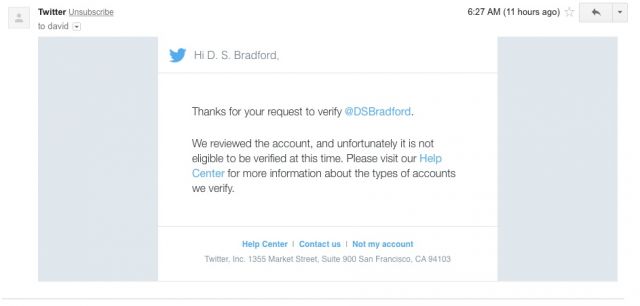 Applied 11/23 – Denied 11/25
For one reason or another, my account is blacklisted. With the rolling influx of press I receive, and create, there is nothing that I can do when it comes to verifying my account as a newsworthy brand — short of posting a photo of my government-issued photo ID and using that as my profile photo to show the world that I am who I say I am.
This barring has created an eye-opening revelation that, while there are others in my field with similar accolades who are verified, and others are not — the process is not equal, nor is it real. I'm not saying that I am important or that I want to be verified for notoriety. I wanted to be verified because I am a real person and a public entity. As a society, we've become fixated upon other people validating who we are as individuals and in order to have the same opportunities as everyone else, we have to play this game. Somewhere at Twitter, there is a person who created a method to give brands and businesses hope — and then 48 hours it is taken away. Automatically, and with no explanation or feedback from a human being — because there is none.
Attempts to reach out to Twitter for comment resulted in an automated form email. Surprise, surprise.
We encourage you to Share our Reports, Analyses, Breaking News and Videos. Simply Click your Favorite Social Media Button and Share.