The trolling operation at Twitter is getting much worse now and branching out heavily into Reddit, Facebook
and YouTube. Twitter suspended our group, Tea Party Fire Ants www.teapartyfireants.net multiple times, without reason other than they apparently didn't like our conservative work to gain over 150 co-sponsors for the Benghazi Select Committee, that exposed Hillarys email scandal and ultimately cost her the Presidency. You can read more about us and our fight with Twitter trolls from over two years ago on these two WND articles, here: http://www.wnd.com/2014/05/how-twitter-empowers-liberal-trolls/ and here: http://www.wnd.com/2014/06/hidden-war-rages-over-your-own-words/
We all read stories almost everyday about conservatives on social media's accounts being suspended, shadowbanned, stalked and worse but to my knowledge, nobody has called for a plan of action or a place people can come together to fight for our first amendment rights on Twitter and other social media. That is exactly what we are doing now, fighting back. If you have had issues with Twitter trying to shut your voice down because they don't like your conservative views, be sure to sign this 'censored' petition and help get it out to everyone you know, any way you can; on your blogs, websites, email list etc…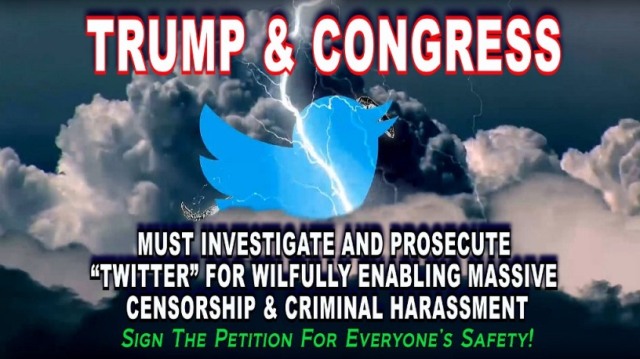 It is absolutely critical that everyone sign this petition, linked below. It is 100% safe to do because Trump is coming into office and he agrees with the basic idea. Trump will use Twitter to get his message out
around the LSM during his Presidency but Twitter has already shadowbanned at least 32 of Trumps tweets before the election and is continuing to silence,shadowban and suspend conservative supporters.
Our free speech, online activism and ability to get the true news out using social media is being censored out of existence and is at high risk. Twitters trolls are already censoring this petition but LIBERALS have a petition with 22,000 signatures demanding liberal Twitter ban President Elect Trump and that petition is not censored. Surely Jack Dorsey and his (not so ) 'saftey' department is not stupid enough to ban President Trump however, they are continuing to shadowban those of us that support him so the liberals can continue controlling the messaging and their liberal agenda.
IF YOU CARE ABOUT FREE SPEECH AND AMERICA, SIGN THIS PETITION AND SIGN IT RIGHT THIS MINUTE. EVERYONE NEEDS TO STAND UP AND BE COUNTED.
Also, a class action lawsuit will be in the works within days, this petition is how you will be notified if you would like to join it. Please take 2 minutes, sign this petiton and comment here right now:
http://www.standunited.org/petition/petition-for-trump-administration-and-congress-to-investigate-social-media-giant-twitter