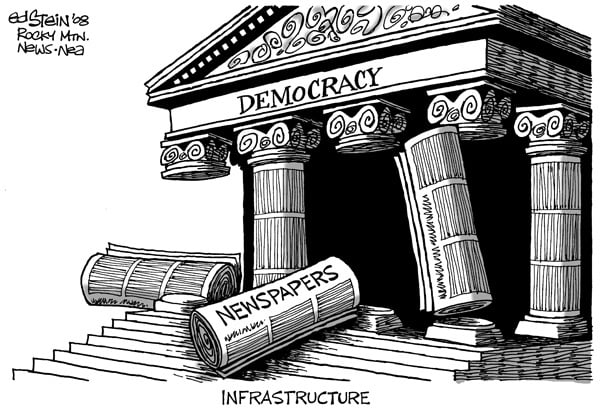 "On World Press Freedom Day, I call for an end to all crackdowns against journalists – because a free press advances peace and justice for all." — António Guterres, United Nations Secretary-General(Flickr)
May 3th is World Press Freedom Day. The UN has been celebrating this international day annually since the 1993 proclamation that commemorated the 1991 Declaration of Windhoek. The Declaration of Windhoek is a statement of free press principles, a manifesto written by a group of African journalists. It was an outcome of a UNESCO seminar held in Windhoek, Namibia, calling for the promotion of independent and pluralistic journalism in post-Cold War Africa.
From May 1st to 4th, UNESCO and the Indonesian government will co-organize the main and side events of World Press Freedom Day in Jakarta. This year's themes, titled Critical Minds for Critical Times will explore the 'Media's role in advancing peaceful, just and inclusive societies'. Unlike Millennium Development Goals (MDGs), the 16th goal of the UN's post-2015 Sustainable Development Goals (SDGs) recognizes the importance of the role of a free press in promoting inclusive and democratic governance. Reflecting this highlighted function of the free press in actualizing an agenda, the themes will focus on the three essential preconditions that shape the free press as a catalyst for the promotion of peace around the globe.
First, that a legal framework protecting investigative journalism must be built and secured. According to the UNESCO Director-General's 2016 Report on the Safety of Journalists and the Danger of Impunity, 827 journalists lost their lives while on duty over the last decade, and 8% of these cases remain unresolved. An institutional safety net protecting journalists' welfare is, thus, in urgent demand. Likewise, as instances of hate speech and violent extremism are increasingly prevalent these days, the implementation of regulatory measures to pre-empt such harmful incidents are more pressing than ever.
Second, journalists must always comply with high ethical standards. They should always impartially convey the reality of conflict situations, free from the political influence of involved parties.
Lastly, tools that enable participatory democracy through Information and Communication Technologies (ICTs) should be further strengthened. Online platforms not only provide low-cost access to information, but they also give the opportunity to exercise freedom of expression for netizens, thereby fostering transnational and intercultural democratization.
The fact that the free press' current situation could be considered grave on a global scale, make it worth following up on the activities of this year's World Press Freedom Day. According to the recently released 2017 World Press Freedom Index, an annual publication by Reporters without Borders, the global landscape of journalism has entered into a transitional phase in the post-2016 political climate, reaching a dangerous tipping point for the status of the free press.
Instances of state-sanctioned terror against the free press have soared 14% over the past five years, and nearly two out of three countries showed signs of deterioration in the quality of the free press compared to last year's index. Remarkably, the index shows that the advent of so-called 'post-truth politics', fake news and 'strongman' leadership have greatly reduced the free press status of established democracies.
The post May 3rd: World Press Freedom Day appeared first on Foreign Policy Blogs.
Source:
https://foreignpolicyblogs.com/2017/05/01/may-3rd-world-press-freedom-day/
We encourage you to Share our Reports, Analyses, Breaking News and Videos. Simply Click your Favorite Social Media Button and Share.