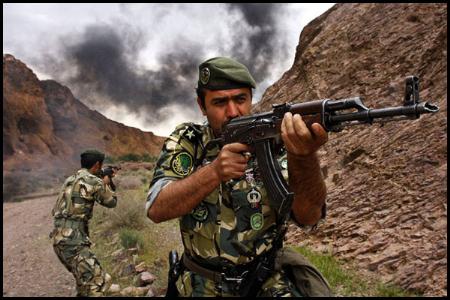 Iran has long been designated a state-sponsored terrorist government, as the international community acknowledges their role in exporting terrorism throughout the Middle East and onto the larger global stage. How is Iran able to do this, with so many sanctions placed on them to limit their nuclear activities?
In large part, Iran relies on the Islamic Revolutionary Guard Corps (IRGC) to both fight in strategic areas throughout the region and assist in spreading terrorism throughout the world. This security force not only is active in the oppression of any potential uprising on the domestic front, but they have also been put in charge of training camps that prepare forces to combat and also create terrorist cells in teams of two.
The National Council of Resistance of Iran (NCRI) recently released a report documenting the type of training occurring in these camps, along with their locations within Iran. These camps have trained forces from Syria, then sent them back to the frontlines of that civil war. In 2016, the U.S. State Department acknowledged that Iran is a top sponsor of terrorism.
The Trump administration is currently considering a proposal that would have the IRGC designated as a foreign terrorist organization. While some argue that it is part of the Iranian government and falls under the state-sponsor of terrorism designation that Iran already has, others point to the economic influence of the IRGC and their role in Syria as reasons to call the IRGC out in an international setting. It is clear that they are an entity unto themselves, even within Iran itself.
The NCRI also wrote an article in December 2016 about the clear violations of UNSC resolutions by the IRGC's presence and their transfer of weapons to Syria. The IRGC has a main command center and barracks within Aleppo. This base is under the command of Seyed Javad Ghafari, IRGC Brigadier General, who is commanding all the Iranian forces within Syria.
That seems to be a far cry from the military advisors that Iran claims is all they have sent to Syria and belies their claim of not having troops on the ground in that country. The base is one of the permanent centers of the IRGC's so-called 'Saberin', the commando battalions, equipped with armored personnel carriers and 107 mm mini-Katiusha rockets, according to Iran Focus.
Within that base, there is housing for the Syrian commanders that coordinate joint operations with the Iranian forces. Rahim Safavi, former IRGC commander and current military advisor to Ali Khamenei, said in an interview with Iran's state TV in the fall of 2016 that the main role of this war is on the shoulders of the ground forces, consisting of the IRGC, terrorist Quds Force foot-soldiers, and the Syrian army. He also admitted the IRGC, along with its mercenaries, was coordinating bombings in Aleppo.
In November 2016, General Mohammad Bagheri said, "Syria has reached the point that in the past few years, Iran has launched missile production units in Aleppo."
These are key military personnel from inside the Iranian regime, admitting to the intense role that the IRGC has within Syria. But over the years, Iran's involvement in Syria has been for a variety of reasons, from being a bulwark against Israel to a place used to ship arms and supplies to Hezbollah, another terrorist group created by Iran.
Yet, for all of Iran's meddling, it is clear that they need allies to maintain their hold in Syria. Russia has been a major ally for Iran in Syria, but earlier this year, the Kremlin began using diplomatic activism in regards to Syria. This seems to signal a change in Russia that could put them sharply at odds with Iran.
The reason is two-fold. One, Iran backs Assad because he does what Iran wants regarding movement of troops and arms to Hezabollah. However, Russia seems to be more interested in a political transition in Syria that will gradually reduce the role of Assad. Thus, Iran could be marginalized by the new government, something they do not want.
Secondly, Iran and the IRGC have significant economic ties to Syria. A new government could mean a change in their economic standing within the country. Russia seems to be willing to put a leash on Iran. According to the Defense News, well-informed Syrian opposition figures say that they are hearing from Russians that they are disgusted with the undisciplined, looting Shia militiamen brought by Iran to Syria. These Shia militias, which include Hezabollah, are advancing Iran's sectarian agenda and inciting a Sunni backlash.
Iran, unlike Russia, wants to target all anti-Assad rebels, treating them like terrorists. But the IRGC has motives beyond the Iranian regime ideological agenda. They are motivated by their economic ties, not only within Syria, but throughout Iran. Much of the funds that have become available in Iran, thanks to the 2015 nuclear deal that relaxed critical economic sanctions, are coming into IRGC controlled businesses. Fraud is rampant throughout the country and it is clear that the IRGC benefits by keeping the regime in power.
Using the conflicts through the Middle East, while at the same time, creating terrorist cells to spread fear throughout the global community, Iran and the IRGC are holding on to power. The Iranian population is paying the price with high unemployment and inflation. The IRGC is more focused on its military objectives than assisting in providing real relief for the people.
Human rights violations are also a key part of the IRGC agenda. They use them to maintain the domestic oppression of key political opposition groups within Iran. Torture, prison sentences without trial, public punishments (such as flogging or stoning), and executions are par for the course. They have targeted journalists, MEK members and any one that they deem to have questioned the regime.
Without a strong stance from Europe and the U.S., Iran will continue to spread terrorism and conflict throughout the region. Iran has tremendously increased radicalization of individuals, militarization and terrorism. The only way to limit Iran's reach is to counter and cut off Iran's financial and military support to Assad. This means getting the IRGC and all their terrorist splinter groups out of Syria.
These splinter groups have taken the fight out of Syria and brought it to the U.S. and Europe. Dealing with ISIS and these other splinters cannot be effectively done, unless Syria itself is addressed. Iran and the IRGC sponsor terrorism, which means that they cannot be fighting terrorism. The truth is that as long as Iran is able to find the funds for the IRGC, the exporting of terrorism will continue.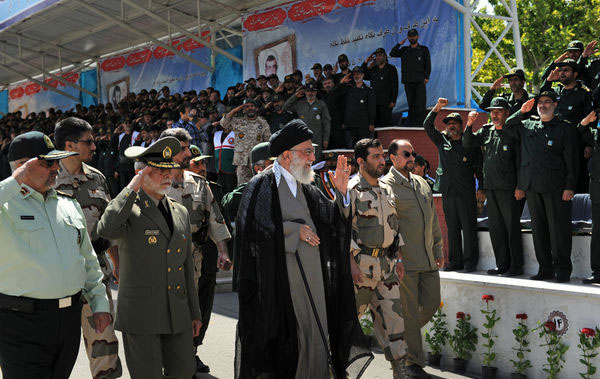 We encourage you to Share our Reports, Analyses, Breaking News and Videos. Simply Click your Favorite Social Media Button and Share.