Via Billy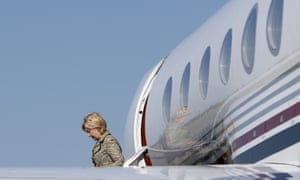 The emails currently roiling the US presidential campaign are part of some unknown digital collection amassed by the troublesome Anthony Weiner, but if your purpose is to understand the clique of people who dominate Washington today, the emails that really matter are the ones being slowly released by WikiLeaks from the hacked account of Hillary Clinton's campaign chair John Podesta. They are last week's scandal in a year running over with scandals, but in truth their significance goes far beyond mere scandal: they are a window into the soul of the Democratic party and into the dreams and thoughts of the class to whom the party answers
The class to which I refer is not rising in angry protest; they are by and large pretty satisfied, pretty contented. Nobody takes road trips to exotic West Virginia to see what the members of this class looks like or how they live; on the contrary, they are the ones for whom such stories are written. This bunch doesn't have to make do with a comb-over TV mountebank for a leader; for this class, the choices are always pretty good, and this year they happen to be excellent.
They are the comfortable and well-educated mainstay of our modern Democratic party. They are also the grandees of our national media; the architects of our software; the designers of our streets; the high officials of our banking system; the authors of just about every plan to fix social security or fine-tune the Middle East with precision droning. They are, they think, not a class at all but rather the enlightened ones, the people who must be answered to but who need never explain themselves.
Source:
http://freenorthcarolina.blogspot.com/2016/10/good-forget-fbi-cache-podesta-emails.html
We encourage you to Share our Reports, Analyses, Breaking News and Videos. Simply Click your Favorite Social Media Button and Share.