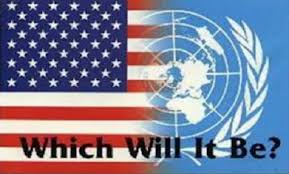 STEVE QUAYLE ALERT
RESPONSE FROM FEDERAL LEO-THEIR SIDE OF THE STORY-THE WHOLE PURPOSE OF INITIATING WAR AGAINST THE COPS AND COPS AGAINST THE PEOPLE, IS TO FEDERALIZE ALL LOCAL POLICE AND SHERIFF'S AND BRING THEM UNDER U.N. CONTROL
There is a spirit of rebellion against the law enforcement officers in this country. No one wants to tell the good we do anymore. No one wants to talk about how I talked a young women who was being tormented by demons and wanting to commit suicide, out of her harmful act and talked her back to Jesus. No one wants to talk about the good we do, it doesn't make a profit. Instead everyone to include Christian talk shows are speaking out against the police! No body's wants us until they can't defend themselves and if the victim "thinks" we didn't do them justice based off the laws and regulations we have to follow, than we are to blame for the crime more than the culprit.
Are there bad cops out there? Of course there are, but most of them are not on the street. Most "bad cops", are merely thrown into a situation that can have no positive outcome. Man if I was allowed to speak on air..I would to tell people the truth they are not allowed to hear!
Instead of brow beating the next police officer you see, I dare you to walk up to them and shake their hand and say thank you for agreeing to die for me, to keep me alive. We do this same thanking to Jesus for shedding , his own blood for us, to save us. But we can't give the same gratitude to the police who have sworn an oath to die in service of protecting the American people. I rebuke everyone that speaks out against the police at this point. The police have now become the prostitute who is about to be stoned to death, sadly we don't have a person like Jesus to stand up for us. But I will say this, I challenge any of you to go through all of our rigurous training, our incredibly hard tests, our weapons qualifications, our driving qualifications and the unstoppable hateful rhetoric that gets spit into our faces on a daily patrol!
I dare you to pick up my badge and gun and go running towards the next active shooter without the first thought that you could die and not go home to your family. To leave you wife a widow and to leave your children's father or motherless! How about to take an oath that you will no longer due drugs, break laws, drink heavily, and that you have to stay I'm good shape? How about to stand and testify to the judge for the reason of every ticket and arrest? Or how about to rescue the young teen girl from a gang rape? Or break up a domestic dispute and then council the couple for hours, sometimes repeatedly? How about to pull that child out of a car crash where the father and mother died because an illegal alien was drunk driving and speeding then wrecked into a minivan, only to have cut your arms and hands up on the glass you just broke, drag the crying child out, then have that child die in your arms! I have to fight back tears to tell this and you people will never understand that my job is to save your ass when you cant! To protect the innocent and defenseless! When was the last time you fed and clothed the homeless?
When was the last time you gave a damn about anything besides yourself America? I rebuke all of you in the name of Jesus for let he that is without sin cast the first stone! If you haven't been there and you have walked or ran a mile in the snow down an alley after a man who just raped and robbed an 80 year old woman than you can shut the hell up and kiss my ass! I have been provoked, spit on, pissed on, punched, kicked, car tried to run me over, been shot at, called a coward and traitor by illiterate children of a socialist welfare state. You think I care about your opinions anymore? I know what we do is noble and is right, I know the real reasons why we serve.
Do you know why you are TAUGHT TO HATE THE POLICE? LUCIFER HATED HAVING TO ANSWER TO A HIGHER AUTHORITY SO, REMEMBER THAT.
——SQ:I WARNED THIS DAY WOULD COME 20 PLUS YEARS AGO, AND NOW IS HERE -CLASS WARFARE AND TOTAL ,ANARCHY AND REBELLION-WE HAVE BECOME A NATION OF LAWLESSNESS FROM THE HEAD DOWN-EVEN THE FBI, AND DOJ WONT PROSECUTE TREASON OR NATIONAL SECURITY ISSUES AND MURDER AND TOTAL CROOKED POLITICIANS–THE PEOPLE SEE IT ALL!
Oct 3, 2016
http://www.stevequayle.com/index.php?s=33&d=1886
We encourage you to Share our Reports, Analyses, Breaking News and Videos. Simply Click your Favorite Social Media Button and Share.