Headline: Bitcoin & Blockchain Searches Exceed Trump! Blockchain Stocks Are Next!
Via Billy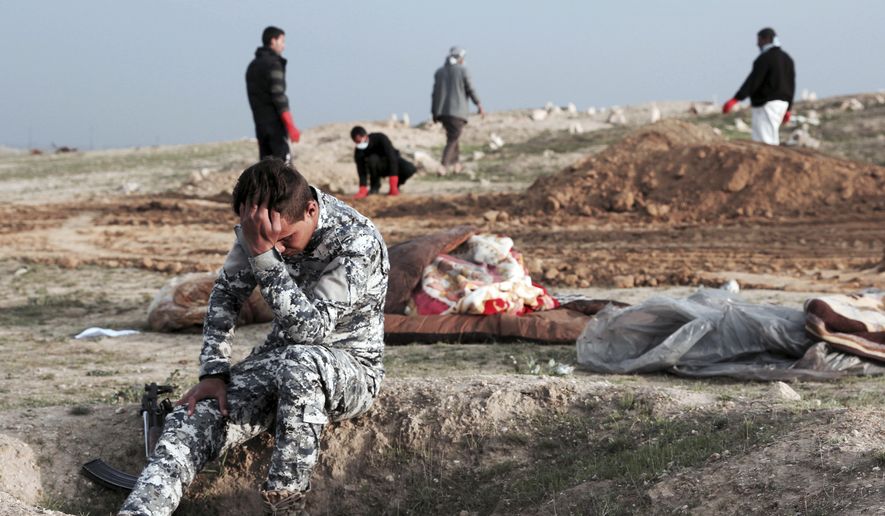 An Iraqi policeman collects himself as he is surrounded by bodies at the site of a mass grave containing some two dozen people, many of them children, in an area recently re-taken from Islamic State militants in Mosul, Iraq, Wednesday, March. 15, 2017
Lawmakers, advocates and survivors gathered Thursday to mark the anniversary of the U.S. designation of Islamic State genocide against Christians, Yazidis and other religious minorities in the Middle East, urging the Trump administration to turn those words into action.
Friday marks the one-year anniversary of the designation issued by former Secretary of State John F. Kerry, which followed the 393-0 vote in the House to recognize the crimes of the Islamic State as genocide.
Reps. Jeff Fortenberry, Nebraska Republican, and Anna G. Eshoo, California Democrat, were among those in attendance Thursday at the U.S. Capitol Visitor Center to celebrate the bipartisan achievement and outline steps to take going forward.
Source:
http://freenorthcarolina.blogspot.com/2017/03/advocates-encourage-trump-to-take.html