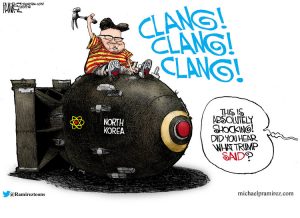 By Greg Hunter's USAWatchdog.com
The threats are going both ways between the U.S. and North Korea, especially after the U.N. Security Council voted 15 to 0 to sanction Kim Jung Un over his nuclear program and threats to use the nukes against his enemies. President Trump promised "fire and fury" if North Korea used their nukes.
Best-selling author of books exposing the Clintons, Ed Klein, says the Jeff Sessions Justice Department is reopening the Hillary Clinton email investigation. Klein's sources are saying the DOJ is thinking about offering a plea deal to Hillary that he also says she will not take. That is the tip of the iceberg as there are still allegations of taking treasonous bribes in the form of donations to the Clinton Foundation that many say is a global charity fraud.
Don't believe the things you hear about the U.S. economy getting better—it's not. John Williams of ShadowStats.com says jobs are collapsing, and the true unemployment rate is still at 22%. Billionaire Ray Dalio, who manages $160 billion at his hedge fund, says things are dicey with North Korea and the debt ceiling, and you should buy physical gold for protection.
Join Greg Hunter as he talks about these stories and more in the Weekly News Wrap-Up.
(To Donate to USAWatchdog.com Click Here)
After the Interview:
Egon von Greyerz od Matterhorn Asset Management will be the guest for the Early Sunday Release. He says his rich clients have suddenly started to buy more gold in the last few weeks. He will tell us why.
Related Posts:
---
Greg Hunter
Greg is the producer and creator of USAWatchdog.com. The site's slogan is "analyzing the news to give you a clear picture of what's really going on." The site will keep an eye on the government, your financial interests and cut through the media spin. USAWatchdog.com is neither Democrat nor Republican, Liberal or Conservative. Before creating and producing the site, Greg spent nearly 9 years as a network and investigative correspondent. He worked for ABC News and Good Morning America for nearly 6 years. Most recently, Greg worked for CNN for shows such as Paula Zahn Now, American Morning and various CNN business shows.
http://usawatchdog.com/north-korea-hot-head-hillary-doj-trouble-economy-chaos-coming/
More articles & videos here: http://usawatchdog.com
We encourage you to Share our Reports, Analyses, Breaking News and Videos. Simply Click your Favorite Social Media Button and Share.