By Greg Hunter's USAWatchdog.com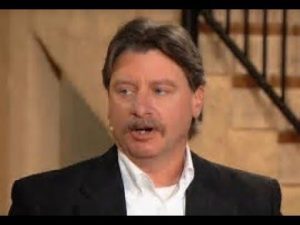 Mark Taylor, author of the popular book "The Trump Prophecies," says do not fear the disturbing things you are seeing in Washington D.C. and elsewhere. Taylor says, "It is not a time to walk in fear. It's a time to walk in faith. No matter what we see or our minds are telling us . . . because God has got his hand on everything that is going on—period. . . . The enemy is pulling out every weapon in the warfare right now because he is extremely nervous. . . . God is taking this cabal down, or Illuminati and all these people that are involved in all this stuff to try to take America down and instill the New World Order (NWO). This is what this is about, and it's getting rid of the NWO."
Taylor says the ride is going to be rough, and he contends, "There is some stuff coming where people are going to need to put their seatbelts on because this is going to be a long ride. You cannot clean up global corruption that's been going on for centuries. That's right, I said centuries, which is getting ready to be revealed. You cannot do that overnight. It takes time to build a case against some of these people. The last people we want walking on a technicality are Barack Obama, Hillary Clinton or some of these globalists. It takes time to build a case, and people need to be patient. I want to see these arrests go down, and you are going to see it go down. Justice is not coming, it is already here. This stuff takes time to put in place, and people are going to have to be patient and let the Lord work out the timing in all of this, and you should know God's hand is in all of this."
Taylor says you have to balance out the good news with the bad. Taylor explains, "You have to have a balance. You have to saturate yourself with as much good news as bad news. This frequency they are bombarding us with creates fear, paranoia and panic. It will damage your body organs. It will make you sick. It will literally change your DNA, and studies have shown this. The Lord showed me the sign will be when you give someone good news and they can't receive it. that is a sign that your DNA has been handed over to the enemy. Now, we can change that. You can get away from the doom and gloom and go into the good news like Jesus said to preach, and you can change all that around. . . . You need to hear God's voice correctly. You can get tapped into Satan's frequency and you think you are hearing Good's voice, but you are not. All you are hearing is the doom and gloom. This is designed to . . . rob you of hope, and when they rob you of hope, it robs you of the will to fight. That is the enemy's design. You get these comments all the time when they write in and say these guys are never going to jail. Who are you trying to kid. Well, congratulations! You just fell prey to the psychological warfare. You have now been indoctrinated into their system. They have robbed you of hope. You have given up the fight, and that's exactly where the enemy wants you to be. Nowhere in the Bible does it say to lay down your weapons. We are to occupy until He (Jesus) comes. Fight, fight, fight no matter what. We will win this war. We will be victorious."
Taylor also says God is going to reveal truths about the Vatican. Taylor says the word given to him says, "This is going to boggle the mind. Look at what God is exposing here. He (God) says there is an archeological find that is coming. I think this archeological find is going to be on multiple levels. Some have said it will be the Ark of the Covenant. It could be relics. I sense, and I am not prophesying this, I sense it could be scrolls. It could be manuscripts. You are going to find out . . . they wanted to keep man divided. This is not just going to affect Catholics. . . . This is going to affect everyone. God is performing a rescue mission right now. . . . The truth is going to come out, and it is going to set people free because they have been trying to control and manipulate the people through religion, power and money. God is going to pull the veil back and expose all of this because he's trying to rescue his people."
Taylor also says "Trump is going nowhere. He will be the President for the next seven years."
Join Greg Hunter as he goes One-on-One with Mark Taylor, author of the popular book "The Trump Prophecies."
(To Donate to USAWatchdog.com Click Here)
After the Interview:
Taylor's prophecies from God the Father have always been free of charge. You get the latest prophecies from Taylor by clicking here. If you want to buy a copy of "The Trump Prophecies" click here.
Related Posts:
https://usawatchdog.com/not-a-time-to-walk-in-fear-mark-taylor/
We encourage you to Share our Reports, Analyses, Breaking News and Videos. Simply Click your Favorite Social Media Button and Share.