https://twitter.com/afrokinn/status/1015640018403123201/photo/1
The US embassy in the Haitian capital of Port-au-Prince warned American tourists to "shelter in place" as violent demonstrations erupted across the island over a fuel price hike.
An estimated 120 Americans are believed to be staying at a Port-au-Prince hotel targeted by protesters, who attempted to bypass security and set the building ablaze. Youth groups and missionaries from an array of U.S churches are also stranded in the Caribbean nation, unable to make it safely to the airport for departure. –Fox News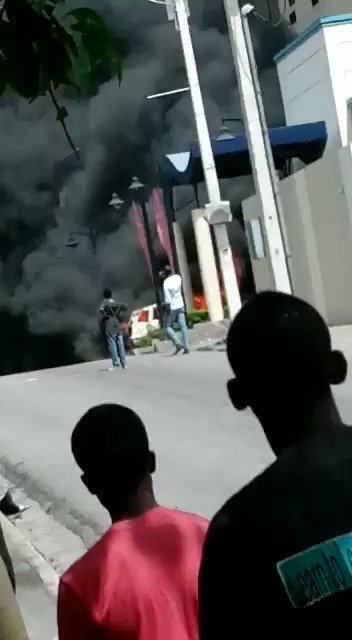 HaitiInfoProject

@HaitiInfoProj
Hotel Best Western in Petionville, #Haiti was set ablaze by anti-govt protesters moments ago.
LAIKA

@afrokinn
This is #Haiti right now … check on your relatives if you can. There was no EDH last night so power maybe limited. #HaitianTwitter
The State Department notice reads: "Do not travel to the airport unless you confirmed your flight is departing," adding "Flights are cancelled today and the airport has limited food and water available. Telecommunications services, including Internet and phone lines, have been affected throughout Haiti. It may be difficult to reach people through normal communication methods."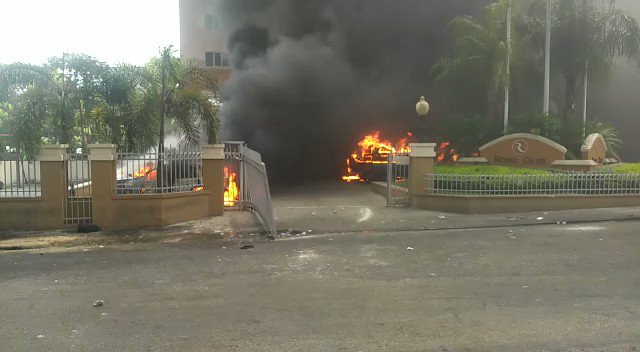 #Haiti today!
"We express our deepest condolences to all those affected by this event. We are closely monitoring the situation and remain in close contact with Haitian authorities to verify the welfare and whereabouts of U.S. citizens in the area."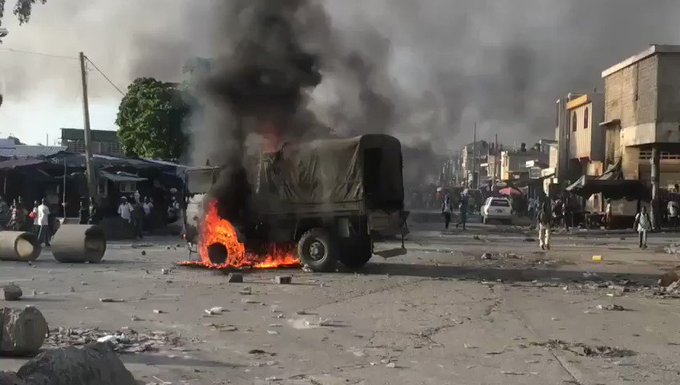 HaitiInfoProject

@HaitiInfoProj
Anti-govt protests erupted throughout the capital of PAP, #Haiti today. Corruption, violence, hunger and misery are taking their toll.
The Haitian government halted a planned fuel price hike on Saturday after riots broke out late last week. Haiti Prime Minister Jack Guy Lafontant had previously announced a 38% increase in gasoline, diesel and kerosine prices in order to balance the budget.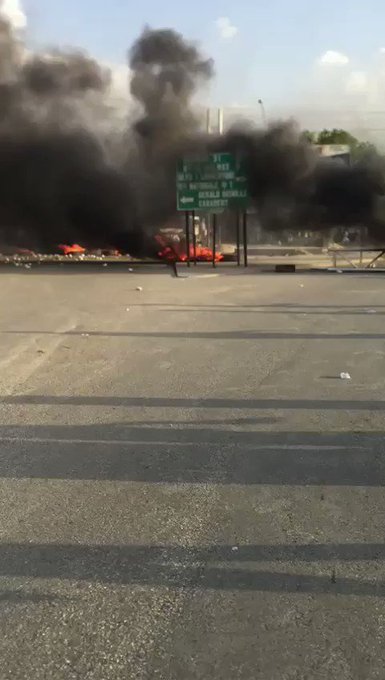 HaitiInfoProject

@HaitiInfoProj
All roads around the PAP, #Haiti airport now blocked by anti-govt protesters.
A source on the ground in Haiti described the situation as "on fire" and only getting worse, with more major demonstrations expected Sunday in the wealthy enclave of Pétion-Ville, south-east of the capital city. -Fox News
Source:
http://ncrenegade.com/editorial/all-hell-breaks-loose-in-shithole-haiti-as-violent-mobs-try-to-murder-trapped-american-tourists/
We encourage you to Share our Reports, Analyses, Breaking News and Videos. Simply Click your Favorite Social Media Button and Share.