NASA News Revisited. NASA has been in the news lately for their discovery of 7 Exoplanets outside of our solar system much like our planet Earth. An exoplanet is a planet that orbits a star outside the solar system. These planets reportedly have water that may be able to sustain life. NASA seems to be inching along, tepidly dropping clues regarding life on other planets. Should humanity be exited about the recent NASA News and their sudden discovery? Does NASA always work in the best interest of the planet? Are citizens 100% aware of every space centered move NASA makes?
Well, in keeping with the idea that the masses are often the last to know, research this morning, led to an interesting report about a canceled NASA Mission to nuke the moon which was (thanks to our lucky stars) aborted. Apparently, a review published in Nature magazine bought wind of this once hidden information soon after Carl Sagan his biography entitled "Carl Sagan: A Life" published in 1999. The plan to nuke the moon was concocted in 1958. This was a top secret plan which, of course, had it's own identifying number.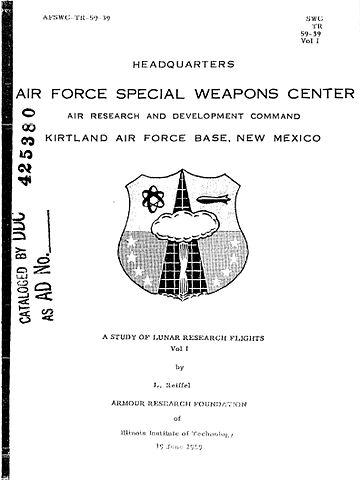 This was the dawn of the top-secret plan known as" Project A119 ". For those of you who believe you've been sent down as star seeds, and ambassadors to save the planet, here's a question: were you born in 1958? If you answered " yes " perhaps you chose your mission the exact date of Project A119. Perhaps the who universe may have been alerted to this plan to place a nuclear bomb on the moon. But I digress.
Our revisited NASA News alerts us that Project A119 was developed by The United States Air Force. Supposedly, setting off a nuclear bomb on the surface of the moon would reveal mysteries we needed to know about astronomy and astrogelogy. Momentarily, a mini shock wave of nervous energy just flashed within. Is it warranted?
The plot thickened. As reports continued unfolding before wide eyes, the Soviet Union factored into the plan of Project A119, operation nuke the moon. The Soviet Union was in the lead in the race for being first in space travel achievements. America wanted to do something bigger and better than what the Soviet Union had achieved. Again, we can thank our lucky stars that the nuclear bombing of the moon project was abandoned. According to reports circulating at the time, the mission was aborted because if we missed our target, the nuke could hit the earth. For a show of prowess and one up-manship, the idea of detonating a nuclear bomb on the moon, was considered to some length back in 1958.
Here we are pleasantly listening to recent NASA News in 2017 about the discovery of seven Exoplanets that sustain water. We've been told that perhaps there is life on other planets.. Yet, what's the back story and seemingly whispered interest in alien life in the first place? Are other nations speeding ahead of us? Is there a hidden secret looming behind NASAs efforts? Is there more to our race for space? And if there is some hidden agenda, what is it? Will we be reading about a different, secret agenda half a decade from today? And will NASA ever find reason to nuke the moon for reasons like getting ahead in the race for space? Just wondering!
We encourage you to Share our Reports, Analyses, Breaking News and Videos. Simply Click your Favorite Social Media Button and Share.