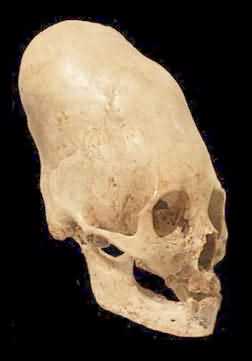 In the 1930′s, in a small rural village 100 miles southwest of Chihuahua, Mexico,
at the back of a mine tunnel, two mysterious remains were found: a complete human skeleton and a smaller, malformed skeleton.
In late February of 1999, Lloyd Pye was first shown the Starchild skull by its owners. Nameless then, it was a highly anomalous skull. He initially felt it would prove to be a rare genetic deformity of some kind. This skull's symmetry was astonishing, even more so than the average human. In fact, all of its bones—most of which had human counterparts—were beautifully shaped. But shaped like what? Solving many questions that this unusual skull presented became his challenge.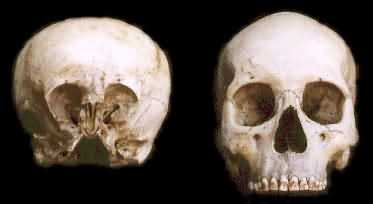 Sixty to seventy years ago an American girl of Mexican heritage in her late teens (15 to 18) was taken by her parents to visit relatives living in a small rural village 100 miles southwest of Chihuahua, Mexico. The girl was forbidden to enter any of the area's numerous caves and mine tunnels, but like most teenagers, she went exploring. At the back of a mine tunnel she found a complete human skeleton lying on the ground's surface. Beside it, sticking up out of the ground, was a malformed skeletal hand entwined in one of the human skeleton's upper arms. The girl proceeded to scrape the dirt off a shallow grave to reveal a buried skeleton smaller than the human one and also malformed. She did not specify the type or degree of any of the "malformations."
The girl recovered both skulls and kept them for the remainder of her life. Upon her death they were passed to an American man, who maintained possession for five years before passing them to the American couple who now control them.
Follow me on Pinterest - http://http://www.pinterest.com/Stargazernation/
We encourage you to Share our Reports, Analyses, Breaking News and Videos. Simply Click your Favorite Social Media Button and Share.