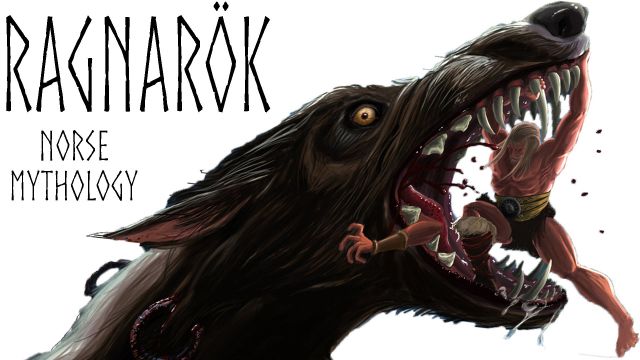 Top 10 facts about Ragnarok in Norse mythology is a series of future events, including a great battle foretold to ultimately result in the death of a number of major figures (including the gods Odin, Thor, Týr, Freyr, Heimdallr, and Loki), the occurrence of various natural disasters, and the subsequent submersion of the world in water. Afterward, the world will resurface anew and fertile, the surviving and returning gods will meet, and the world will be repopulated by two human survivors. Ragnarök is an important event in the Norse canon, and has been the subject of scholarly discourse and theory.
The event is attested primarily in the Poetic Edda, compiled in the 13th century from earlier traditional sources, and the Prose Edda, written in the 13th century by Snorri Sturluson. In the Prose Edda, and a single poem in the Poetic Edda, the event is referred to as Ragnarök or Ragnarøkkr (Old Norse "Fate of the Gods" and "Twilight of the Gods" respectively), a usage popularised by 19th-century composer Richard Wagner with the title of the last of his Der Ring des Nibelungen operas, Götterdämmerung (1876).
The gods do battle with the invaders: Odin is swallowed whole and alive fighting the wolf Fenrir, causing his wife Frigg her second great sorrow (the first being the death of her son, the god Baldr). Odin's son Víðarr avenges his father by rending Fenrir's jaws apart and stabbing it in the heart with his spear, thus killing the wolf. The serpent Jörmungandr opens its gaping maw, yawning widely in the air, and is met in combat by Thor. Thor, also a son of Odin and described here as protector of the earth, furiously fights the serpent, defeating it, but Thor is only able to take nine steps afterward before collapsing. The god Freyr fights Surtr and loses. After this, people flee their homes, and the sun becomes black while the earth sinks into the sea, the stars vanish, steam rises, and flames touch the heavens.
The völva sees the earth reappearing from the water, and an eagle over a waterfall hunting fish on a mountain. The surviving Æsir meet together at the field of Iðavöllr. They discuss Jörmungandr, great events of the past, and the runic alphabet. In the grass, they find the golden game pieces that the gods are described as having once happily enjoyed playing games with long ago. The reemerged fields grow without needing to be sown. The gods Höðr and Baldr return from Hel and live happily together.
High reveals that two humans, Líf and Lífþrasir, will have also survived the destruction by hiding in the wood Hoddmímis holt. These two survivors consume the morning dew for sustenance, and from their descendants the world will be repopulated.
Check out more contributions by Jeffery Pritchett ranging from UFO to Bigfoot to Paranormal to Prophecy