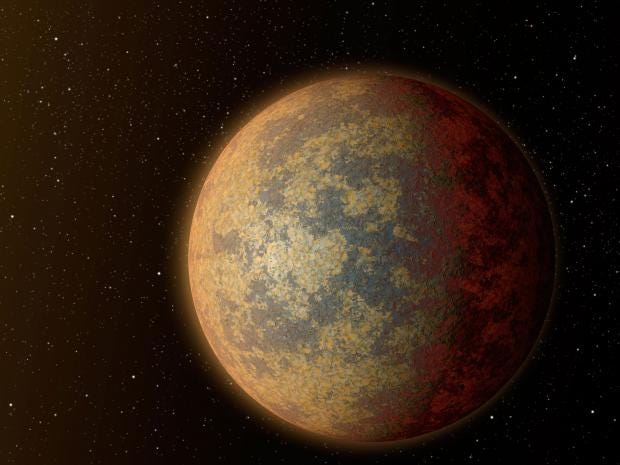 An artist's impression shows what HD 219134b could look like NASA/JPL-Caltech
Nasa is to host a major press conference on a "discovery beyond our solar system".
The event will see the revelation of major information about exoplanets, or planets that orbit stars other than our sun, according to a release. It made no further mention of the details of what would be revealed.
Exoplanets are the major hope for life elsewhere in the universe, since many have been found that resemble our own Earth and could have the building blocks of life.
The event will take place on 22 February at 1pm New York time, it said. It will be streamed live on Nasa's television station and on its website.
Attending the press conference will be astronomers and planetary scientists from across the world.
Nasa said that the public will be able to ask questions using the hashtag #AskNasa during the conference. The agency will also hold a Reddit AMA, or ask me anything, session straight after the briefing.
Thanks http://www.independent.co.uk
Most people who use social media have figured out that Facebook and Google are in cahoots with the government. For those who are well aware of the issues, it's high time you switched over to Seen.life.
Seen.life is a website that is similar to Facebook but without all the censorship. Firearm friendly, you may buy sell or trade anything allowed by site TOS rules.
Check out more contributions by Jeffery Pritchett ranging from UFO to Bigfoot to Paranormal to Prophecy
We encourage you to Share our Reports, Analyses, Breaking News and Videos. Simply Click your Favorite Social Media Button and Share.