February 19 2017
A massive blob of abnormal conditions in the Pacific from Alaska to Mexico has increased ozone levels and is killing sealife.
Why aren't scientists checking the Fukishima relation? More needs to be done and the public needs to be ALERTED to the dangers of the contaminated Pacific! Do NOT eat fish from the Pacific Ocean! (More on the Fuku relation at the end of this post)
---
From SecureTeam10
If you like the articles that I share, be sure to click the 'Recommend' Button near the top of the page & I thank you in advance. Please leave your comments below!
#beforeitsnews #jonathanlee #viral #trending #followme #christianteaparty #deplorable #alternativenews #altnews#2a #askWL #1a #currentevents #fakenews #proisrael #trump #conservative #watchman
#fukushima #nuclear #pacificocean #sealife #nuclear #paranormal
Scientists say a warm patch of water in the Pacific Ocean known as 'the blob' may be causing this year's weird weather. Here, a plot shows how much warmer the waters were off the coast of Washington in April 2014 compared to the period between 1981 and 2010.
The one common element in recent weather has been oddness. The West Coast has been warm and parched; the East Coast has been cold and snowed under. Fish are swimming into new waters, and hungry seals are washing up on California beaches.
A long-lived patch of warm water off the West Coast, about 1 to 4 degrees Celsius (2 to 7 degrees Fahrenheit) above normal, is part of what's wreaking much of this mayhem, according to two University of Washington papers to appear in Geophysical Research Letters, a journal of the American Geophysical Union.
"In the fall of 2013 and early 2014 we started to notice a big, almost circular mass of water that just didn't cool off as much as it usually did, so by spring of 2014 it was warmer than we had ever seen it for that time of year," said Nick Bond, a climate scientist at the UW-based Joint Institute for the Study of the Atmosphere and Ocean, a joint research center of the UW and the U.S. National Oceanic and Atmospheric Administration.
Bond coined the term "the blob" last June in his monthly newsletter as Washington's state climatologist. He said the huge patch of water – 1,000 miles in each direction and 300 feet deep – had contributed to Washington's mild 2014 winter and might signal a warmer summer.
Ten months later, the blob is still off our shores, now squished up against the coast and extending about 1,000 miles offshore from Mexico up through Alaska, with water about 2 degrees Celsius (3.6 degrees Fahrenheit) warmer than normal. Bond says all the models point to it continuing through the end of this year.
The new study explores the blob's origins. It finds that it relates to a persistent high-pressure ridge that caused a calmer ocean during the past two winters, so less heat was lost to cold air above. The warmer temperatures we see now aren't due to more heating, but less winter cooling.
Co-authors on the paper are Meghan Cronin at NOAA in Seattle and a UW affiliate professor of oceanography, Nate Mantua at NOAA in Santa Cruz and Howard Freeland at Canada's Department of Fisheries and Oceans.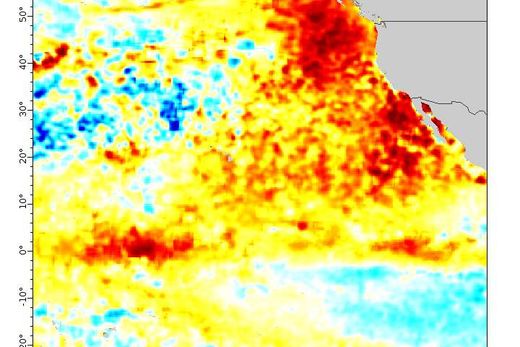 © NOAA National Climate Data Center
The warm blob earlier this week, now squished up against the West Coast. The scale bar is in degrees Celsius (each increment is 1.8 F)
The authors look at how the blob is affecting West Coast marine life. They find fish sightings in unusual places, supporting recent reports that West Coast marine ecosystems are suffering and the food web is being disrupted by warm, less nutrient-rich Pacific Ocean water.
The blob's influence also extends inland. As air passes over warmer water and reaches the coast it brings more heat and less snow, which the paper shows helped cause current drought conditions in California, Oregon and Washington.
The blob is just one element of a broader pattern in the Pacific Ocean whose influence reaches much further – possibly to include two bone-chilling winters in the Eastern U.S.
A study in the same journal by Dennis Hartmann, a UW professor of atmospheric sciences, looks at the Pacific Ocean's relationship to the cold 2013-14 winter in the central and eastern United States.
Despite all the talk about the "polar vortex," Hartmann argues we need to look south to understand why so much cold air went shooting down into Chicago and Boston.
His study shows a decadal-scale pattern in the tropical Pacific Ocean linked with changes in the North Pacific, called the North Pacific mode, that sent atmospheric waves snaking along the globe to bring warm and dry air to the West Coast and very cold, wet air to the central and eastern states.
"Lately this mode seems to have emerged as second to the El Niño Southern Oscillation in terms of driving the long-term variability, especially over North America," Hartmann said.
In a blog post last month, Hartmann focused on the more recent winter of 2014-15 and argues that, once again, the root cause was surface temperatures in the tropical Pacific.
That pattern, which also causes the blob, seems to have become stronger since about 1980 and lately has elbowed out the Pacific Decadal Oscillation to become second only to El Niño in its influence on global weather patterns.
"It's an interesting question if that's just natural variability happening or if there's something changing about how the Pacific Ocean decadal variability behaves," Hartmann said. "I don't think we know the answer. Maybe it will go away quickly and we won't talk about it anymore, but if it persists for a third year, then we'll know something really unusual is going on."
Bond says that although the blob does not seem to be caused by climate change, it has many of the same effects for West Coast weather.
"This is a taste of what the ocean will be like in future decades," Bond said. "It wasn't caused by global warming, but it's producing conditions that we think are going to be more common with global warming."
More information: Causes and Impacts of the 2014 Warm Anomaly in the NE Pacific, DOI: 10.1002/2015GL063306
Journal reference: Geophysical Research Letters SOURCE
---
Fukushima Radiation Has Contaminated The Entire Pacific Ocean (And It's Going To Get Worse)
What was the most dangerous nuclear disaster in world history? Most people would say the Chernobyl nuclear disaster in Ukraine, but they'd be wrong. In 2011, an earthquake, believed to be an aftershock of the 2010 earthquake in Chile, created a tsunami that caused a meltdown at the TEPCO nuclear power plant in Fukushima, Japan. Three nuclear reactors melted down and what happened next was the largest release of radiation into the water in the history of the world. Over the next three months, radioactive chemicals, some in even greater quantities than Chernobyl, leaked into the Pacific Ocean. However, the numbers may actually be much higher as Japanese official estimates have been proven by several scientists to be flawed in recent years.
Radioactive Debris from Fukushima approaching North America's western coast Credit – RT
If that weren't bad enough, Fukushima continues to leak an astounding 300 tons of radioactive waste into the Pacific Ocean every day. It will continue do so indefinitely as the source of the leak cannot be sealed as it is inaccessible to both humans and robots due to extremely high temperatures.
It should come as no surprise, then, that Fukushima has contaminated the entire Pacific Ocean in just five years. This could easily be the worst environmental disaster in human history and it is almost never talked about by politicians, establishment scientists, or the news. It is interesting to note that TEPCO is a subsidiary partner with General Electric (also known as GE), one of the largest companies in the world, which has considerable control over numerous news corporations and politicians alike. Could this possibly explain the lack of news coverage Fukushima has received in the last five years? There is also evidence that GE knew about the poor condition of the Fukushima reactors for decades and did nothing. This led 1,400 Japanese citizens to sue GE for their role in the Fukushima nuclear disaster.
Even if we can't see the radiation itself, some parts of North America's western coast have been feeling the effects for years. Not long after Fukushima, fish in Canada began bleeding from their gills, mouths, and eyeballs. This "disease" has been ignored by the government and has decimated native fish populations, including the North Pacific herring. Elsewhere in Western Canada, independent scientists have measured a 300% increase in the level of radiation. According to them, the amount of radiation in the Pacific Ocean is increasing every year. Why is this being ignored by the mainstream media? It might have something to do with the fact that the US and Canadian governments have banned their citizens from talking about Fukushima so "people don't panic."
Credit – AP
Further south in Oregon, USA, starfish began losing legs and then disintegrating entirely when Fukushima radiation arrived there in 2013. Now, they are dying in record amounts, putting the entire oceanic ecosystem in that area at risk. However, government officials say Fukushima is not to blame even though radiation in Oregon tuna tripled after Fukushima. In 2014, radiation on California beaches increased by 500 percent. In response, government officials said that the radiation was coming from a mysterious "unknown" source and was nothing to worry about.
However, Fukushima is having a bigger impact than just the West coast of North America. Scientists are now saying that the Pacific Ocean is already radioactive and is currently at least 5-10 times more radioactive than when the US government dropped numerous nuclear bombs in the Pacific during and after World War II. If we don't start talking about Fukushima soon, we could all be in for a very unpleasant surprise.
We encourage you to Share our Reports, Analyses, Breaking News and Videos. Simply Click your Favorite Social Media Button and Share.