THIS Is The Smartest Kid In The World And He Thinks CERN Destroyed Our Universe…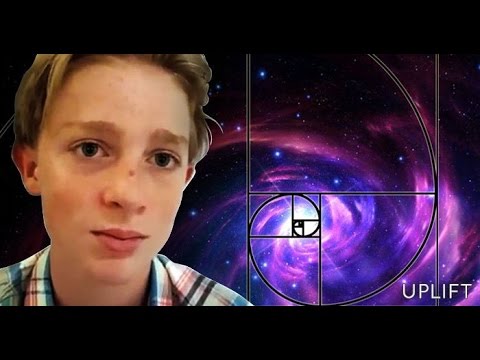 We are living inside a Universe that's so complex that if we can grasp what's happening for a moment, we'll fall down on our knees and cry in surrender to its marvelous beauty!
Science just barely starts to scratch the surface to the nature of reality and still, its discoveries are more shocking than we were able to imagine. It proves of quantum entanglement, unified field of consciousness, free energy, superhuman abilities, singularity, parallel universes and alternate realities.
All of this is so mind boggling that you would never think a kid can understand. But maybe we need a kid, someone who is brave enough to think about crazy ideas and theories because most of the world we live in today was built upon such.
Max Laughlin is not just any kid. He is probably the smartest kid in the world. When he had only 13 years he invented a Free Energy Device, something that could potentially power the whole world for free. He became famous across the world for his brilliant ideas and points of view on interesting topics like the nature of The Universe and Alternate Realities.
But now he has a theory that CERN destroyed our Universe and we live in another Universe that was parallel and closest to it. He thinks the famous Mandela Effect is a result of that. Max explains it all beautifully in this video:
What do you think about this kid and his theory about CERN? Let us know in the comments section and thanks for stopping by.
CERN is the European Organization for Nuclear Research. The name CERN is derived from the acronym for the French Conseil Européen pour la Recherche Nucléaire, a provisional body founded in 1952 with the mandate of establishing a world-class fundamental physics research organization in Europe.
Source https://www.lifecoachcode.com
Check out more contributions by Jeffery Pritchett ranging from UFO to Bigfoot to Paranormal to Prophecy
~~~~~
Most people who use social media have figured out that Facebook and Google are in cahoots with the government. For those who are well aware of the issues, it's high time you switched over to Seen.life. It is a website that is similar to Facebook but without all the censorship.
Firearm friendly, you may buy sell or trade anything allowed by site TOS rules.
We encourage you to Share our Reports, Analyses, Breaking News and Videos. Simply Click your Favorite Social Media Button and Share.