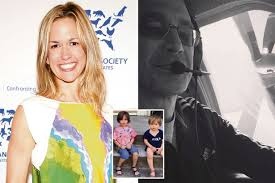 The infamous Bermuda Triangle is back in the news following the strange disappearance of a small plane as it flew through the mysterious location earlier this week.
Bound for central Florida from Puerto Rico, the aircraft contact with air traffic control around two hours into the flight on Monday and vanished from radar.
Aboard the plane were a woman named Jennifer Blumin, her two young sons, and pilot Nathan Ulrich.
When the flight never arrived in Florida, authorities quickly set about searching for the plane and its passengers and ultimately recovered some small pieces of debris from the aircraft.
The US Coast Guard and other agencies are continuing to look both for the plane and its passengers as well as for answers as to what what might have gone wrong during the flight.
One possible cause for the incident, inclement weather, has apparently already been ruled out as a possibility, with the Coast Guard saying that there was no indication such adverse conditions when the plane disappeared.
Skeptical observers, citing aviation statistics, will say that the apparent crash being connected to the Bermuda Triangle is merely a matter of geographical coincidence.
However those who believe that there is something strange about the area will likely see this latest case as a grim reminder the Bermuda Triangle is no paranormal relic and that it continues claiming unfortunate victims to this day.
Source: ABC News
Check out more contributions by Jeffery Pritchett ranging from UFO to Bigfoot to Paranormal to Prophecy
~~~~~
Most people who use social media have figured out that Facebook and Google are in cahoots with the government. For those who are well aware of the issues, it's high time you switched over to Seen.life. It is a website that is similar to Facebook but without all the censorship.
Firearm friendly, you may buy sell or trade anything allowed by site TOS rules.
We encourage you to Share our Reports, Analyses, Breaking News and Videos. Simply Click your Favorite Social Media Button and Share.