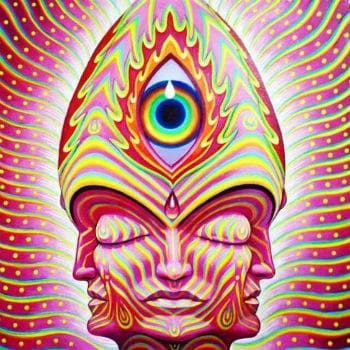 Art Alex Grey
The third eye (also known as the inner eye) is a mystical and esoteric concept referring in part to the ajna (brow) chakra in certain Eastern and Western spiritual traditions. It is also spoken of as the gate that leads within to inner realms and spaces of higher consciousness.
In New Age spirituality, the third eye may alternately symbolize a state of enlightenment or the evocation of mental images having deeply-personal spiritual or psychological significance.
The third eye is often associated with visions, clairvoyance (which includes the ability to observe chakras and auras), precognition, and out-of-body experiences, and people who have allegedly developed the capacity to utilize their third eyes are sometimes known as seers.
med·i·ta·tion
ˌmedəˈtāSH(ə)n/
noun
the action or practice of meditating.

"a life of meditation"
third eye
noun
1.

the locus of occult power and wisdom in the forehead of a deity, especially the god Shiva.
I host the Church of Mabus radio show and it is going on 8 years. I've been in the paranormal community for 20 years. I provide content from a network of sources and guests and allies. Ranging from Politics to the Paranormal and the Spiritual. You can check out my other articles here at my BIOGRAPHY at BIN and you can check out my free radio show at this link HERE. Thanks for showing your support and stopping by!
We encourage you to Share our Reports, Analyses, Breaking News and Videos. Simply Click your Favorite Social Media Button and Share.