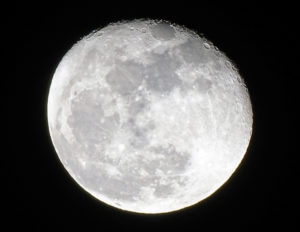 The total solar eclipse that occurred this summer drew incredible excitement from even casual sky gazers, but our moon is about to perform a feat that is much more rare, and you probably haven't heard anything about it. Our only natural satellite is about to block out a trio of planets and a dominant star all over the course of a single day.
The event is known as a lunar occultation, which is really just a fancy way of saying that the moon is going to obscure some stuff in the sky. For observers here on Earth, the moon will appear to swallow up Venus, Mars, and Mercury, as well as the star Regulus, which is one of the brightest in our night sky.
What makes it particularly interesting for astronomers is that it's extremely rare for so many celestial bodies to be involved at the same time. Occultations involving a single body or planet are relatively common, but this particular combination only happens once every 28 years or so. By comparison, a total solar eclipse happens somewhere on Earth every couple of years.
As with the eclipse, certain spots on Earth will have a better vantage point than others. For those hoping to snag a glimpse of the moon engulfing Mars, Hawaii is a great place to be, while locations in the South Pacific have the best shot at spotting Mercury slipping behind the moon later this evening. For the rest of us, searching for cool photos on Instagram and Twitter will probably be our best shot at enjoying the stellar sights.
Mike Wehner
@MikeWehner
I host the Church of Mabus radio show and it is going on 8 years. I've been in the paranormal community for 20 years. I provide content from a network of sources and guests and allies. Ranging from Politics to the Paranormal and the Spiritual. You can check out my other articles here at my BIOGRAPHY at BIN and you can check out my free radio show at this link HERE. Thanks for showing your support and stopping by!
We encourage you to Share our Reports, Analyses, Breaking News and Videos. Simply Click your Favorite Social Media Button and Share.