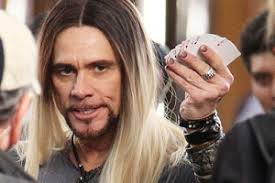 To provoke thought further than where it may already have gone. Both sides of the coin presented. If you've been paying attention to the research I put into the speculative theory of a hidden, shape shifting capable, reptilian species among us, and why?
You'll find this video but adds to the strangeness 'of it all.' Just what is Jim Carrey talking about? Just what is Brittney Spears talking about? Reptilian Shape shifters! Whom are the real shape shifters? Questions asked, and information to, hopefully, compel you to, as well, join the armies of humans who've been investigating, freelance, of course, into the 'older than history' tales of the 'reptilians, or shape shifters,' that once walked, or still do, theis planet earth. What do you think?
No matter what you think about Trump this is peculiar for someone to say about someone. What do you think of Jim Carrey? Has he finally lost his mind or is he right on? Certainly seems like Trump likes to parasite off of negative energy from the populance.
One of the videos below claim Carrey did not say this and YourNewswire made it up. The video goes into if Carrey said it or not. Still all pretty amusing.
I host the Church of Mabus radio show and it is going on 8 years. I've been in the paranormal community for 20 years. I provide content from a network of sources and guests and allies. Ranging from Politics to the Paranormal and the Spiritual. You can check out my other articles here at my BIOGRAPHY at BIN and you can check out my free radio show at this link HERE. Thanks for showing your support and stopping by.
We encourage you to Share our Reports, Analyses, Breaking News and Videos. Simply Click your Favorite Social Media Button and Share.