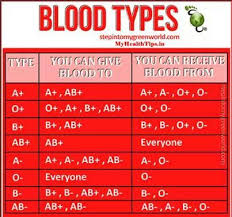 What is Rh-negative blood?
Everyone's blood is either Rh-positive or Rh-negative—positive means you have a certain protein (called antigens) on the surface of your red blood cells, and negative means you don't. If you're Rh-negative and baby's RH-positive, then there could be problems.
What are the signs of Rh-negative blood?
There aren't any symptoms. In fact, your Rh factor doesn't affect your health at all—except during pregnancy.
Are there any tests for Rh-negative blood?
Yes, a prenatal blood test will let you and your doctor know whether you're Rh-negative or Rh-positive. If you're negative, around week 28 of your pregnancy you'll get what's called an indirect Coombs test, which checks to see if your body's making Rh antibodies, which is a sign baby's Rh-positive.
How common is Rh-negative blood?
Only about 15 percent of people are Rh-negative, so it's not exactly common, but it's widespread enough that your doctor should know how to handle it.
How did I get Rh-negative blood?
You inherited your Rh negativity. If baby is Rh-positive, he must have inherited his Rh factor from your partner.
How will my Rh-negative blood affect baby?
If baby is Rh-negative too, it won't. But if baby is Rh-positive, your body could start making antibodies to attack the positive Rh factor in baby's blood.
This usually isn't a problem in a first pregnancy—unless you have an abdominal injury, bleeding or your and baby's blood mixes some other way. But if you have a second baby that's Rh-positive, those existing antibodies could destroy his red blood cells, causing a condition called hemolytic disease. Hemolytic disease could cause anemia and other problems, and in rare cases, death.

The good news is, as long as you're seeking prenatal care, your doctor can be on top of an Rh incompatibility and head off problems.
via The Bump
I host the Church of Mabus radio show and it is going on 8 years. I've been in the paranormal community for 20 years. I provide content from a network of sources and guests and allies. Ranging from Politics to the Paranormal and the Spiritual. You can check out my other articles here at my BIOGRAPHY at BIN and you can check out my free radio show at this link HERE. Thanks for showing your support and stopping by.
We encourage you to Share our Reports, Analyses, Breaking News and Videos. Simply Click your Favorite Social Media Button and Share.