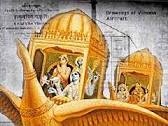 According to ancient Indian texts, the people had flying machines which were called "Vimanas." The ancient Indian epic describes a Vimana as a double-deck, circular aircraft with portholes and a dome, much as we would imagine a flying saucer. It flew with the "speed of the wind" and gave forth a "melodious sound." There were at least four different types of Vimanas; some saucer shaped, others like long cylinders ("cigar shaped airships").
Vimanas were kept in a Vimana Griha, a kind of hanger, and were sometimes said to be propelled by a yellowish-white liquid, and sometimes by some sort of mercury compound, though writers seem confused in this matter. It is most likely that the later writers on Vimanas, wrote as observers and from earlier texts, and were understandably confused on the principle of their propulsion. The "yellowishwhite liquid" sounds suspiciously like gasoline, and perhaps Vimanas had a number of different propulsion sources, including combustion engines and even "pulse-jet" engines.
I host the Church of Mabus radio show and it is going on 8 years. I've been in the paranormal community for 20 years. I provide content from a network of sources and guests and allies. Ranging from Politics to the Paranormal and the Spiritual. You can check out my other articles here at my BIOGRAPHY at BIN and you can check out my free radio show at this link HERE. Thanks for showing your support and stopping by.
We encourage you to Share our Reports, Analyses, Breaking News and Videos. Simply Click your Favorite Social Media Button and Share.