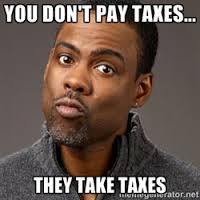 As Comedian Chris Rock said, "You Don't Pay Taxes – They Take Taxes."
Today being April 15, it seems like a good day to acknowledge how government sticks its greedy little fingers into everything we do in the never-ending lust for power that politicians seem to enjoy so much.
Without any concern for the people, or their consent.
It's not just about tax money… but before leaving the tax topic – if the government taxes too much and there is a refund due later, why do people get happy and excited, when they should be a little angry that THEIR money was wrongfully withheld with no interest or penalties paid to them? That's not even considering "the right amount" of taxes not refunded – which few of us would agree to, given how it is wasted.
Also remember that long ago there was no income tax and the government worked just fine, on a smaller scale.
But the government intrusion into our lives and without our consent goes way beyond taxes (which on some scale, are a necessary evil.)
What about the NSA spying on every phone call and every email? What about TSA staff groping and humiliating people at airports? Forcing people to decorate certain wedding cakes? Forced vaccinations? Miltarizing local police and preparing Homeland Security to treat the people as enemies? Bailing out failed banks even after the illegal Federal Reserve allows them to privately create money and force increasing debt-slavery on us? The whole list of abuses is endless, and it's going to get worse slowly if there is no crisis – and very quickly get much worse if their is a crisis soon, as I expect.
So on April 15, give a little thought to what your taxes are paying for – and how many of these things work against you. It's always good to think about positive changes we can make in ourselves, and in our government. Here's to hoping that we can make some of those changes before it's too late.
— contributed by David Montaigne, author of
and
Antichrist 2016-2019: Mystery Babylon, Barack Obama & the Islamic Caliphate
We encourage you to Share our Reports, Analyses, Breaking News and Videos. Simply Click your Favorite Social Media Button and Share.