A vivid example of benefits from decriminalization of possessing small amounts of marijuana occurred at the Philadelphia airport recently, a few days after the release of a report that called for the national decriminalization of personal use/possession of marijuana and other illicit drugs.
This example, interestingly, occurred on the day of the second anniversary of Philadelphia's implementation of decriminalization, the enforcement practice that replaces possession arrests with issuance of traffic-ticket like citations. That enforcement change has saved the City of Philadelphia at least $9-million in costs related to arrests and adjudication for marijuana possession, analysts calculate.
The airport discovery of a small amount of marijuana in the luggage of three-time Philadelphia GOP mayoral candidate Sam Katz resulted in embarrassment for Katz but not his arrest and subsequent court proceeding. Authorities issued a $25 citation to Katz that allowed the nationally respected municipal finance expert turned award winning documentary filmmaker to continue to Florida for a planned fishing trip.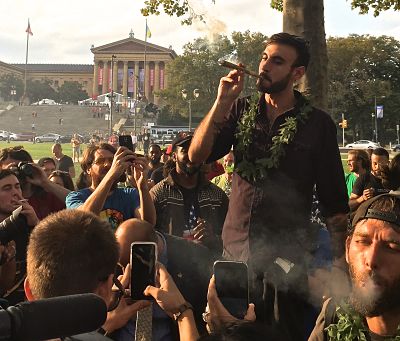 Pot activists N. A. Poe (center) at decrim celebration. LBW Photo

Before Philadelphia became the largest city in America to implement decriminalization of simple possession of marijuana on October 20, 2014 thousands endured arrest annually, arrests that produced the stain of a criminal record and often incarceration. During the years 2012-2013 before decriminalization in Philadelphia police arrested 8,580 adults and juveniles. Philadelphia possession arrest figures for 2015 and part of 2016 after implementation of decriminalization, around 1,500 Philadelphians experienced arrest for marijuana possession – a marked decrease.
"Decriminalization has been a resounding success for the municipal government and for cannabis consumers in Philadelphia," PhillyNORML official Chris Goldstein said. Goldstein, an expert on cannabis policy, writes a weekly column on cannabis issue for philly.com, the news website for Philadelphia's two daily newspapers.
A news collective, founded as a blog in 2004, covering war, politics, environment, economy, culture and all the madness
Source:
http://thiscantbehappening.net/node/3345
We encourage you to Share our Reports, Analyses, Breaking News and Videos. Simply Click your Favorite Social Media Button and Share.