BREAK ..BREAK..!!
MORE (personal) GUARDS IN ERROR
From Geert Wilders PVV Netherlands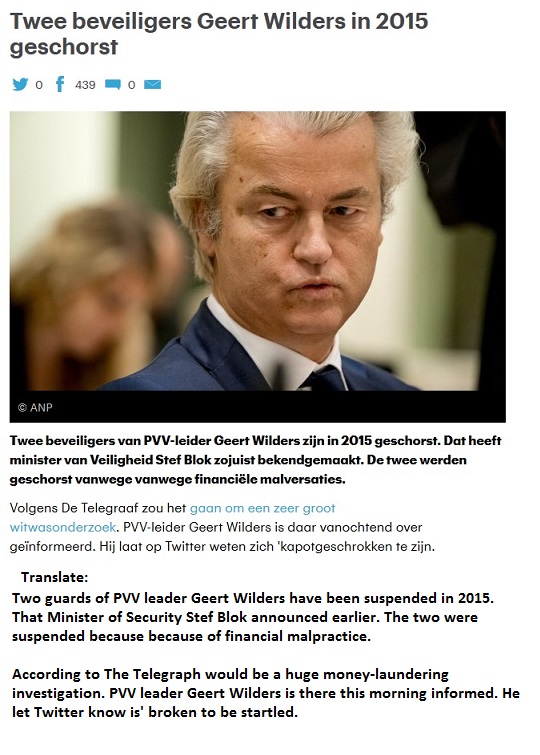 Two top security officers DBB
AMSTERDAM – The riot within the Safety and Security Department (DBB) Police appears even more serious. There appear to be two members of the department politicians and members of the royal family to secure his being suspended in 2015 on suspicion of committing criminal offenses.
One of them, Anouar El M. (39), was Geert Wilders direct protector. That report well informed sources from De Telegraaf. It would be a huge money-laundering investigation. Besides Anouar has also suspended his brother Omar. That happened last year. Its exact function is unclear.
Geert Wilders on Friday informed of the suspension and its background and would have reacted wildly because he was not previously the case is notified.That was also the case with Faris K. who was arrested Monday on suspicion of money laundering and the leaking of confidential information. K. also worked for the DBB. He also had a Moroccan background.
The corps leadership of the National Police confirmed to The Associated Press that the two have been suspended. Within the police are the bewilderment about the new case immensely.
Geert Wilders himself ,, broken again shocked. ' He was informed Friday morning, twittered the PVV leader.
Minister of Security and Justice Stef Blok showed Friday know that the two guards out ,, the physical shell around Wilders' was put out of his job in 2015 because of financial malpractice. The Safety and Security Department (DBB), which performs the security of politicians and members of the royal family, was already discredited by the arrest of another security guard.
We encourage you to Share our Reports, Analyses, Breaking News and Videos. Simply Click your Favorite Social Media Button and Share.