Resume inflation at the NSC
In the annals of human conflict, the Gulf War of 1991, when the US dispatched half a million troops and a huge armada of ships, planes and tanks into the desert south of Iraq and Kuwait and then crushed Iraqi forces in both those countries in a six-week blitz from Jan. 17-Feb. 28, surely has to rank as one of the most one-sided wars since Hitler's Wehrmacht marched through Holland in four days in 1940.
That war, called Operation Desert Storm by the Pentagon, was really just a massive live-fire exercise for US forces, which suffered only 146 casualties, 35 of them in "friendly-fire" incidents and 111 to enemy fire. Iraqi losses were estimated at 35,000, most of them killed in US air strikes as they were trapped trying to retreat to Iraq up a Kuwaiti highway that became known as the "Highway of Death," where fleeing Iraqi troops — most of them hapless draftees — were bombed and strafed mercilessly and nonstop as they sat trapped in an epic traffic jam caused by strategically destroyed vehicles along the route.
It was also the "war" in which President Trump's new National Security Adviser pick, Lt. Gen. Herbert Raymond McMaster, "earned" his much touted Silver Star. Then a young captain in charge of a unit of nine Abrams battle tanks, he stumbled onto a dug-in group of some 80 Iraqi tanks which he then succeeded in completely destroying without losing a single one of his own tanks or men.
It sounds at first blush like something out of Gen. Erwin Rommel's autobiography, but this "heroic action" on Gen. McMaster's part was actually nothing more than a case of having much better equipment. The Abrams tanks he was leading were a couple of generations advanced over the antique Iraqi Russian-built T-62 and T-72 tanks and a few Chinese Type 69 tanks that he was confronting. For one thing, the Abrams tanks are constructed with depleted uranium armor — especially on the front-facing part of the vehicle — a dense metal which is virtually impenetrable to conventional Iraqi tank shells, rockets and RPGs. For another, the Abrams tanks were firing anti-tank shells that were also tipped with depleted uranium penetrators, which can puncture through normal tank armor as if it were cardboard, igniting the interiors and turning them into infernos, exploding the ordnance inside and incinerating a tank crew instantly. Furthermore, the significantly longer range of their primary cannons meant McMasters and his men could stand off in complete safety and fire at the Iraqi tanks, while the Iraqi tank shells all fell short of their targets, making the whole idea of a "battle" a joke.
McMaster's tank action was later glorified with a name: the "Battle of 73 Easting," and is featured in a number of books about the war, including one by novelist Tom Clancey. This is no surprise, given the limited number of actual firefights in the Gulf War that could remotely be characterized as combat, much less qualify as a "battle" worthy of immortalizing with a name. The war was really just a much larger version of the Reagan invasion of Grenada, where a US naval armada and swarming ground troops bravely battled a handful of Grenadian soldiers and a crew of Cuban airport construction workers while garnering a total of 7000 battle awards for their efforts.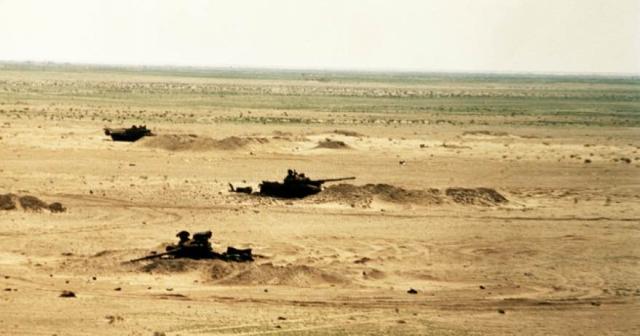 Turkey shoot: Capt. McMaster's vastly superior Abrams tanks were able to destroy Iraqi tanks at a distance, out of range of any Iraqi returning fire

A news collective, founded as a blog in 2004, covering war, politics, environment, economy, culture and all the madness
Source:
http://thiscantbehappening.net/node/3463
We encourage you to Share our Reports, Analyses, Breaking News and Videos. Simply Click your Favorite Social Media Button and Share.