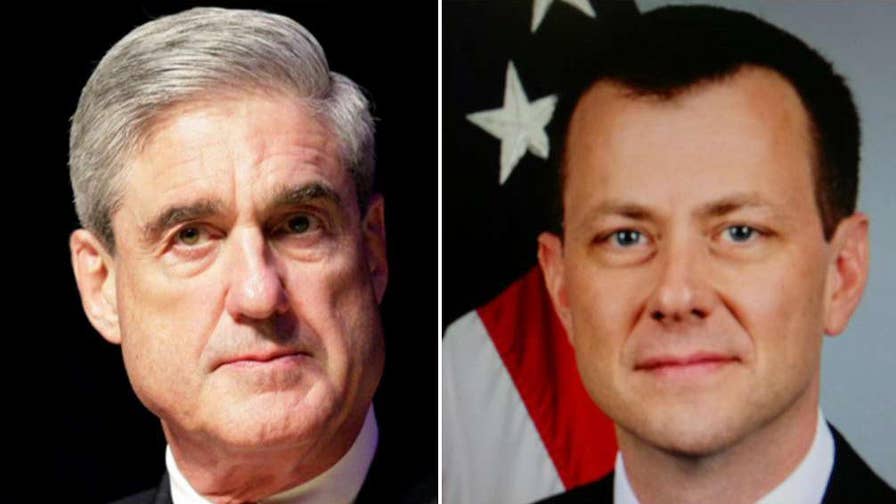 According to Fox News anchor Shannon Bream, a Fox news producer is now in possession of the text messages between anti-Trump FBI agent Peter Strzok and his mistress Lisa Page, messages that may shed light on whether or not the Russia/Trump collusion investigation was motivated by political bias.
Strzok was discovered to have been involved in the investigation of Hillary Clinton's private email server, and was the agent who convinced then-FBI Director James Comey to call Clinton's handling of classified information "extremely careless" rather than "grossly negligent." He also interviewed former National security Adviser Michael Flynn before he was fired by the Trump administration.
"The question is, how did this guy get on your supposedly unbiased team in the first place, when you consider that this is the same guy that had a key position investigating the Hillary Clinton email server scandal and apparently had a hand in altering the FBI's conclusion that Clinton was grossly negligent, down to 'extremely careless,' so she could escape prosecution and thus stay in the race against Donald Trump," Rep. Steve Chabot (R-Ohio) demanded of [FBI Director Christopher] Wray at last week's [oversight] hearing.
Strzok was a part of Special Counsel Robert Mueller's investigation into Russia collusion until the anti-Trump texts were discovered, at which time he was demoted and reassigned. Senate Judiciary Committee Chairman Chuck Grassley demanded the FBI turn over texts between Strzok and Page, as well as any other documents related to Strzok, last week.
The messages, which were turned up during a Justice Department inspector general investigation into potential political influence on investigative decisions during the campaign, are fueling Republican calls for a second special counsel to investigate Mueller's operation.
About 375 texts were handed over by the Justice Department, arriving on Capitol Hill the night before Deputy Attorney General Rod Rosenstein is expected to face a prolonged grilling in front of the House Judiciary Committee.
Sean Hannity disclosed some of the text of the exchanges between Strzok and Page on air Tuesday night and indicated Page was extremely critical of Donald Trump.
Politico also has obtained copies and published some of the exchanges late Tuesday night:
The exchanges show Page and Strzok mocking Trump as early as December 2015.

Responding to a Washington Post story in 2015 about Trump saying it hadn't been proven that Russian President Vladimir Putin had killed anyone, Page wrote: "What an utter idiot."

In a March 2016 message, Page exclaimed: "God trump is a loathsome human….omg he's an idiot."

"He's awful," Strzok replied.
The two also exchanged messages that indicated support for Hillary Clinton.
At a House hearing last week, FBI Director Christopher Wray said he'd seen the texts, but he declined to characterize them or comment on them, saying he wanted to await the outcome of the inspector general's review.
Press accounts have said Strzok and Page were having an extramartial affair at the time they exchanged the messages, some of which seem to refer to other family members. Some of the messages were partially redacted in the copies sent to Congress. Justice Department Assistant Attorney General Stephen Boyd said in a letter to lawmakers that the deletions were made to "protect the privacy interests of third parties and sensitive law enforcement information, and remove irrelevant information."
The post BREAKING: Peter Strzok Text Messages Revealed appeared first on RedState.
Source:
https://www.redstate.com/slee/2017/12/12/breaking-peter-strzok-text-messages-revealed/
We encourage you to Share our Reports, Analyses, Breaking News and Videos. Simply Click your Favorite Social Media Button and Share.