Vatic Note: Ok, lets think about this carefully. This short piece had some incredible information in it, that should cause us to ponder. For instance, this told about debri near the US and Russian joint venture for commercial Launches, known as ILS, International Launch Services. Watch that video more than once and very carefully and you may see what I am talking about below.
Aaaah, I thought Russia was our enemy? Oh, wait, "Commercial", oh, then thats ok, the fascists need to do this in order to keep their profits secured. Who cares about the millions of Russian and US civilian lives lost, in this jointly planned WW for profits in weapons sales. Damn, after all, war is a jobs program now that our agriculture and manufacturing has been shipped to third world slave countries. Dummy me, as I smack my forehead.
Another thing that bothered me is these were going to be "Navigation/positioning Satellites"…. and were created back in 1978 specifically in use for war. So, that means the Russians were getting ready to take on someone. Wonder who that was. We have been saying for a very long time that all leaders on both sides are colluding and conspiring to do this world war for profit, and the bankers control it and who will win.
There is an old saying, and viewed in light of all the World wars we have had and those they are planning on having: "Fool me once, shame on you, fool me twice, SHAME ON ME". Now, we have two "Shame on me". The 1st WW was the "shame on you" but WW II was the shame on me, and now we are heading into our third "Shame on Me"….. are the zionists correct when they wrote "The goyim are so stupid they will believe any thing we tell them". Are they right?
Now, if that is the case and the Russians are not sloppy, if anything, in technology they are way better than we are, since all their technology is a joint scientific venture between Russia and our sleezy ally, Israel. Remember its the Khazar Zionists who own Russia and have since 1917. So, what the Hell happened and if you watch, it truly seems that missle was "taken" out and is it a coincidence that it landed near the joint US and Russian launch pad?
So, do we have friends watching out for us? Think about all the nukes over the past 5 years that "did not go off"….. no MUSLIM stolen nukes used in a false flag attack on Americans to get us to invade Iran (The zionists favorite deception for starting wars. They have done in in every single one since WW I). The last time nukes were used against us was in 9-11 by the same Zionist bankers trying to get us to blame the Muslims. After that, nukes were stolen, went missing, etc, but NO NUKE FALSE FLAGS were allowed.
The North Korean Nuke never got off the ground, remember that threat? Remember the launched missle from a (Zionist) unknown submarine off the coast of LA that went loppdy loop and fell helplessly into the sea, and no follow up news reports on any results of the gov investigation as to who, whether they recovered the missle and was it armed? They made some unbelievable stupid excuse for what it was, but it was so stupid no one took it seriously. A total black out on the issue after that. This is where it was clear as a bell, that the zionist owned press became traitors.
NO MORE PROXY WARS FOR THE BANKERS, using other countries like a chess board, WHERE THEY SIT SAFELY IN THEIR BUNKERS AND UNDERGROUND PALACES while American and Russian children spill their blood, and serve as fodder for the money making wars. THE BANKERS/ISRAEL EITHER FIGHT THOSE WARS THEMSELVES WITH THEIR CHILDREN,THAT THEY START, FUND AND CONTROL, OR THEY MUST SURRENDER, and the rest of us ban together to take them on along with their minions.
Nuremberg trials conducted and executions made public for all their WAR CRIMES AND CRIMES AGAINST HUMANITY. I am so sick of these people, that its time to take their DANGEROUS existence seriously just as the MONGOLIANS DID back in 750 AD when they kicked them all out of Mongolia.
Russian Rocket Fails during Launch and explodes after lift off.
http://beforeitsnews.com/space/2013/07/russian-rocket-fails-during-launch-explodes-after-liftoff-2462168.html?utm_campaign=&utm_term=http%3A%2F%2Fb4in.info%2Fb9fd&utm_source=direct-b4in.info&utm_content=beforeit39snews-verticalresponse&utm_medium=verticalresponse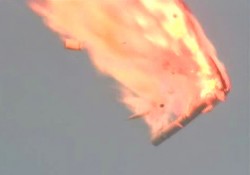 Explosion of a Progress-M rocket on July 2, 2013
At 2:38 UTC Tuesday morning (local time) a Russian Progress-M heavy lift rocket carrying three GLONASS navigation/positioning satellites exploded shortly after lifting off from the pad at Baikonur Cosmodrome. The event was captured on a live Russian news feed, seen on this video.
No word yet on whether there were any injuries or notaccording to NASASpaceflight.com, no casualties have been reported but the Progress rocket debris may have landed near another pad used by ILS (International Launch Services) — a U.S./Russian joint venture for commercial launches.
According to Anatoly Zak at RussianSpaceWeb.com, "since the emergency cutoff of the first stage engines is blocked during the first 42 seconds of the flight to ensure that the rocket clears the launch complex, the vehicle continued flying with its propulsion system firing practically until the impact on the ground."
Reminder: space travel is (still) hard.
http://www.youtube.com/watch?feature=player_embedded&v=9jQ_tPm0J2E
---
The article is reproduced in accordance with Section 107 of title 17 of the Copyright Law of the United States relating to fair-use and is for the purposes of criticism, comment, news reporting, teaching, scholarship, and research.
Source:
http://vaticproject.blogspot.com/2013/07/russian-rocket-fails-during-launch-and.html
We encourage you to Share our Reports, Analyses, Breaking News and Videos. Simply Click your Favorite Social Media Button and Share.