Why is prepping expensive?
Well if you buy those high price products from some of these large "prepper" food companies, it can get very expensive.
I don't about you but I can't spend hundreds or thousands of dollars to buy supplies for "just in case". However, I can spend 20 bucks a week and buy from stores that are relatively nearby. We buy extra canned goods when grocery shopping to add to our "stockpile".
Also we buy in bulk, we buy 50 pounds of long grain rice ($16.00), 50 pounds of Pinto beans ($25.00), #10 cans of canned fruit ($7.00) from Costco Business Center (not the regular Costco).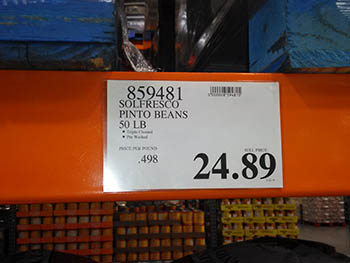 The rice we vacuum seal in 1, 2 and 4 cup servings, with the Pinto beans we make our own refried beans and can it ourselves.
Our garden is another resource, we make our own spaghetti sauce and can that as well, and make our own pickles!
So it comes down to: your time or your money, if you don't want to invest the time then you'll have to spend more money but if you are like me and don't have a lot of money then you have to invest in the time.
BTW Harbor Freight sells a dehydrator for $25.00, is it fancy-no, but it will work, some people just use the oven to dehydrate fruits and vegetables (instead of buying high dollar dehydrators) and you can get food grade buckets at Winco (you can tell I go with my wife grocery shopping).
One thing that has become a habit is when going to a new store like Tractor Supply, Winco, etc. I look to see what they carry for prepping supplies and take notes of what they have and at what prices.
Another resource: do you have any friends that are LDS (Mormon)? Some areas here in the U.S.A. have (LDS) canneries. LDS members can get great deals on prepping supplies ( we bought 6 food grade 55 gallon plastic drums for $20.00 each when they were offered, I'm not LDS but have lots of friends who are).
So don't waste your funds, be frugal, invest your time and make the most of what you can afford, DO NOT PANIC BUY (don't let emotion guide your decisions, try to take a logical approach).