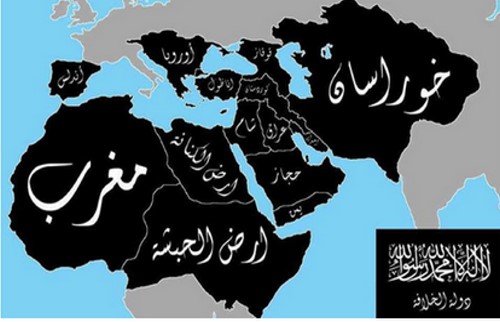 Land the Caliphate wants within 5 years – by 2019
It may take time to sink in, but the restoration of an Islamic Caliphate in the Middle East could be the most important fulfillment of biblical prophecy since the Israelis recaptured all of Jerusalem in 1967.
In early June a new group of fundamentalist rebels sprouted into existence, taking over huge parts of Syria and Iraq. Western Media calls them I.S.I.S. and tells us it stands for "the Islamic State of (Greater) Syria and Iraq."
In the Middle East, what we call ISIS or ISIL or the Islamic Caliphate or the Islamic State is often called DAESH.
"The capitals in the word DAESH point out it is an acronym of some sort. And indeed if we single out the beginning letters of the Arabic name for ISIS : الدولة الاسلامية في العراق والشام
we get the Arabic: داعش
د = Dawlat (Nation)
ا = (al-) Islāmiyya
ع= (fī'l-) 'Irāq
ش = (wa's-) Shām (Greater Syria or the Levant)
So, roughly transcribed to the Latin alphabet that leaves us with DAESH." (Quoted from an article HERE)
Very interestingly, this acronym leaves us with an Arabic word that should be pronounced somewhere between "DAYSH" and "DAS" which would mean "to crush" or "to trample underfoot." Should we draw a parallel to Daniel 7:7 "Behold, a fourth beast, dreadful and terrifying and extremely strong; and it had large iron teeth. It devoured and crushed and trampled down the remainder with its feet; and it was different from all the beasts that were before it."
On June 29, ISIS/DAESH declared a new Islamic Caliphate, dropping the names of Syria and Iraq as states they no longer recognize, as national borders set by Britain and France a century ago will no longer matter as they conquer the world for Islam. They choose to be known simply as the Islamic State now.
The Islamic religion requires all Muslims to swear an oath of loyalty (bay'ah) and submission to the Caliph – the supreme leader of Islam. The Caliph is somewhat like "the pope of Islam" but with much greater power over his subjects. As the Islamic State grows in power, and as the population of the Islamic world accepts their leadership, they could soon have the respect and support of over a billion Muslims. Especially if Israel happens to do anything that outrages the Muslim world and further unites them against a common enemy.
The Bible talks about a false religion in the end times that will persecute Christians. We are told this false religion will be led by the Antichrist, and that he will take over Jerusalem and make it his capital. We are told that if Christians do not renounce their faith in Jesus and swear loyalty to the Antichrist they will be beheaded. We are told the followers of the false religion will think they are doing God service for killing Christians and Jews. The last 3.5 years of Daniel's 70th week will be the worst, most brutal years in human history, and they will soon be upon us.
As author Joel Richardson describes in Books like Mideast Beast and Islamic Antichrist, the Bible's many descriptions of the final empire of the Antichrist is not a revived Roman Empire, but a revived Islamic Caliphate. Daniel's fourth kingdom was described as destroying and encompassing the three empires before it (Babylonian, Persian, and Greek) – but the Romans were only in Babylon for a few months from 116-117 A.D., and Rome never conquered Persia. Daniel's fourth kingdom cannot be the Roman Empire.
Despite being less centrally important to European and American thinking than the Roman Empire – the historical Islamic Caliphate fits the Bible's description by having completely incorporated the Babylonian, Persian, and Greek empires. The old Islamic Caliphate also contained the nations and peoples which the Bible constantly describes as Israel's future end times enemies – Europe does not. Richardson proves with hundreds of scriptural references that we should look to the Middle East for the rebirth of Daniel's fourth kingdom – in the form of a revived Islamic Caliphate – and that a future request by the Antichrist to submit to him and worship Allah fits with the Bible's description of the abomination of desolation.
Recent events match the conclusions of my research – that we will know the Antichrist and his empire by June 2016, and that everything in Bible prophecy will come to a head by December 2019.
— contributed by David Montaigne,
author of End Times and 2019 and Antichrist 2016-2019 and The Two Witnesses of Revelation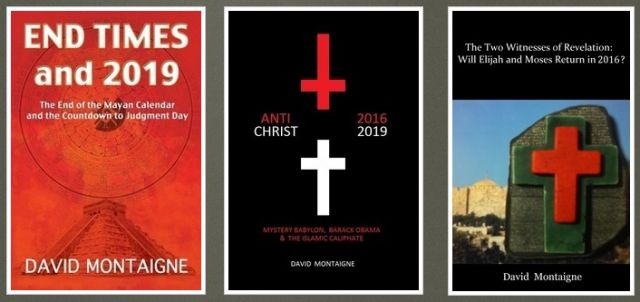 Here are some quotes from book reviews on Amazon for Antichrist 2016-2019, the most recent book that has been out long enough to have dozens of reviews:
"I rarely take my priceless time to write a review, but this book and Mr. Montaigne well deserves it…"
"Very compelling! Author raises some interesting ideas that are hard to dispute. It's a "must read" for anyone interested in understanding the relationship between biblical "end times" and current worldwide events."
"All I can say is WOW! Very enlightening. So much research in one book." "If you are interested in prophecy, you gotta read this book. It has ideas and information I haven't encountered elsewhere. It's a page-turner: it reads like a magazine and covers a wide variety of subjects as the author carefully explains and supports his ideas about the way the earth will change in the next few years, and what causes these changes. Written by a Christian, the book is nevertheless useful for both non-Christians and Christians since it refers to secular sources and ideas as well as the Bible. Even if you aren't interested in setting dates for the end times, you'll be interested in things covered by David Montaigne in this excellent book. If you're interested in TEOTWAWKI, this book is for you."
"I have read many books on this subject but this book is the most thought provoking of all i am amazed at davids insight and dedication in bringing all the subjects within to an understanding the average person can grasp."
We encourage you to Share our Reports, Analyses, Breaking News and Videos. Simply Click your Favorite Social Media Button and Share.