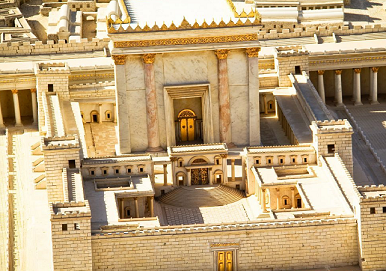 The announcement is not as sensational as I had hoped – or they had hyped. No acknowledgment of finding or possessing the Ark of the Covenant. No details of imminent plans to build the Third Temple (as must occur soon – as all my Bible prophecy research points to a Third Temple in Jerusalem existing no later than June 2016. For more details and evidence supporting this timeline, read: Antichrist 2016-2019)
But today's announcement does offer a little progress with a step in that direction: breeding the perfectly red heifers that meet the biblical requirements needed for future Temple sacrifices.
As the Israeli newpaper Arutz Sheva wrote a few hours ago: "Having already prepared over 70 sacred vessels including the golden menorah and High Priest's gemstone-encrusted breastplate, now is the time to fulfill the commandment of the Red Heifer. Make no mistake, this project is no less than the first stage of the reintroduction of Biblical purity into the world, a prerequisite for the building of the Third Temple." http://www.israelnationalnews.com/News/News.aspx/197996#.VaJLOvma6M8
There are many signs pointing to the imminent construction of such a Temple. As we are approaching the last of the Blood Moon eclipses soon, I'd like to show you this excerpt from my last book:
"Perhaps I am biased to take these potential celestial omens seriously because my own research concludes that the most important prophetic warnings are often linked to astronomical signs, and that the reestablishment of some form of Third Temple in Jerusalem is crucial by June 2016 if an Antichrist is going to be revealed to the world from it. The focus of historical events linked to tetrads of blood moons on Jewish holidays also fits this idea.
Although Biltz does not make a claim that the Third Temple will be rebuilt near this tetrad of eclipses, many others do. In John Hagee's book: Four Blood Moons: Something is About to Change, he asks: 'What historical event will take place during their occurrences that is significant to Israel and the Jewish people.' Let's consider the narrowing geographic focus of events associated with the only tetrads of total lunar eclipses falling exclusively on Passover and Sukkot since the 15th century:
The World – In 1492 the Jews were expelled from Spain, the Spanish officially discovered the Americas, and the Jews spread out to live in many new countries. This worldwide diaspora included the United States, where eventually there were more Jews than in Israel. Within one year of these historical events there was a holiday tetrad of blood moons in 1493 and 1494.
The Nation of Israel – Israel was re-established as a nation in 1948, and within a year of this independence there was a blood moon tetrad on the Passovers and Sukkots of 1949 and 1950.
The City of Jerusalem – Israelis reunited all of Jerusalem under Jewish rule after recapturing East Jerusalem and the Temple Mount in 1967. Within a year, there was a similar tetrad in 1967 and 1968.
The Temple – Some Israelis have wanted to build a new Jewish Temple on the Temple Mount ever since 1967. With Hamas rockets being fired from Gaza into Jerusalem as I write this, the possibility exists that one could destroy the Dome of the Rock Mosque. If it is destroyed, whether by war or a fanatic or any other cause, such destruction would remove the main obstacle to Jewish claims over the entire Temple Mount. Or perhaps the lost Ark of the Covenant is discovered, prompting the establishment of a Temple to properly house it. My research points to the reestablishment of some form of Third Temple in Jerusalem no later than June 6, 2016. This would be within a year of the tetrads of holiday blood moons in 2014 and 2015 and seems to fit the increasingly focused geographical fulfillment of prophetic events near blood moon tetrads."
— contributed by David Montaigne, author of Antichrist 2016-2019
---
We encourage you to Share our Reports, Analyses, Breaking News and Videos. Simply Click your Favorite Social Media Button and Share.