In End Times and 2019 I presented evidence for a timeline of the final seven years of biblical prophecy coming to an end in December 2019. In Antichrist 2016-2019 I presented even more evidence pointing to June 6, 2016 – as the day when the identity of the Antichrist will be fully revealed to the world. If my research amounts to more than a giant but meaningless heap of coincidences, then the last discovery I made is also relevant, and it clarified how Daniel's time periods of 1260, 1290, and 1335 days fit into my own timeline – if the two witnesses of Revelation come back this Passover and begin their ministry at the end of Passover – on April 29, 2016.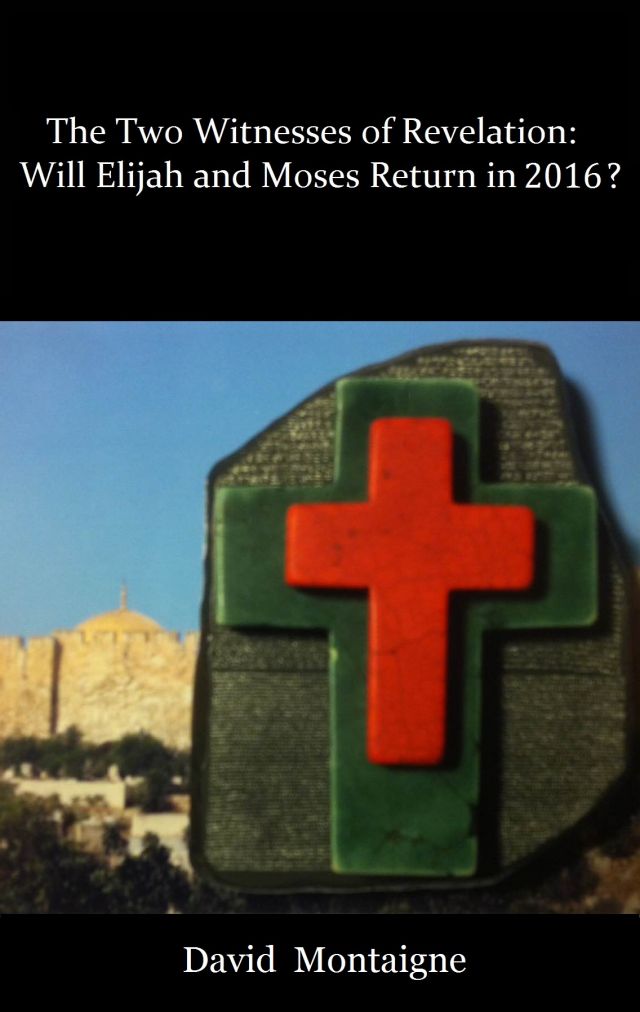 An excerpt from:
The Two Witnesses of Revelation: Will Elijah and Moses Return in 2016?
"In the course of my research while writing End Times and 2019 (and Antichrist 2016-2019) I came up with a timeline for the final seven years of what most Christians call the tribulation or Daniel's 70th week. Several key dates were brought to my attention over and over and over through various scriptures and amazing astronomical parallels in the heavens. I eventually realized that all major steps of an ancient Jewish wedding ceremony are played out in the sky during the week of December 21-28, 2019. The sun, moon, and planets seem to act out a royal wedding in the heavens – and with many scriptures matching this timing as well, I came to realize this represents Christ marrying His bride during the final week of our present world. Even more evidence points to June 6, 2016 as the day when the identity of the Antichrist will be revealed from a new temple in Jerusalem. Another date with multiple clues pointing to it involves the Second Coming on October 14, 2019. And the last key date in my basic timeline is the beginning of the final seven years on December 21, 2012. If I had made a simple chart of Daniel's 70th week a few years ago, it might have looked like this:

If you have read my previous books and you understand the evidence pointing to these dates, you might agree that I have constructed a plausible timeline of how the final years of our present world might play out. Daniel's final seven years, broken into a first half of 1260 days and a second half of 1290 days only add up to 2550 days – six days short of seven years. But by adding in three days for death and resurrection of the Antichrist and the two witnesses, not only does everything work out to the day – events in scripture also correspond to events in the sky. For example: centered at the appropriate mid-point of Daniel's timeline there is a rare alignment of Venus (the Morningstar representing Lucifer) lined up exactly behind (opposite, or anti-) the Sun (representing Christ) on the sixth day of the sixth month in a year ending in six. Up to eight clues per date repeatedly zero in on the five key dates above. I was convinced this was an accurate depiction of the end times years ago.
So you might be wondering: what could possibly be left to explain that has me writing anything new? I finally figured out several additional pieces of the puzzle. There were a few untidy loose ends I was never fully satisfied with, and I recently made some new connections and brought all my loose ends together. Let's start by focusing on my dates for the Second Coming and Judgment Day: At one point, years ago, I did not understand why I concluded that Judgment Day would be December 28, 2019 – while a completely different date, months earlier, worked out for the Second Coming. I did not grow up thinking Jesus could come back and twiddle his thumbs for a few months before everything wrapped up. So I questioned myself and my evidence and my dates and my conclusions and kept asking why these were two dates instead of one. I asked many experts for an opinion, and eventually I asked someone who said he could understand perfectly – if my two dates were exactly 75 days apart. As it turns out, October 14 is exactly 75 days before December 28 – allowing for 30 and 45 day periods of judgment and wrath, as indicated by Daniel's periods of 1260, 1290, and 1335 days.
All was well again – my timeline worked out after all. I had clues pointing to a start date on 12/21/2012. I had evidence pointing to the Antichrist being shot 1260 days later and being resurrected 3 days after that, on 6/6/16. 1290 days (+3 days for death and resurrection of witnesses) later I reach the end of exactly seven years, 2556 days after 12/21/2012, on 12/21/2019 – when Christ's wedding in the sky begins – and a week later, when it ends on Judgment Day on 12/28/19. The Second Coming on the Feast of Tabernacles is 75 days earlier on 10/14/19. So many clues dovetailed together and I was (and still am) greatly impressed with the magnificent overall plan God had laid out in the Bible, and in the heavens.
BUT… there was just one little thing bothering me…" Of course, I finally figured out that one last thing. If you're interested in more details, all my books are available on Amazon: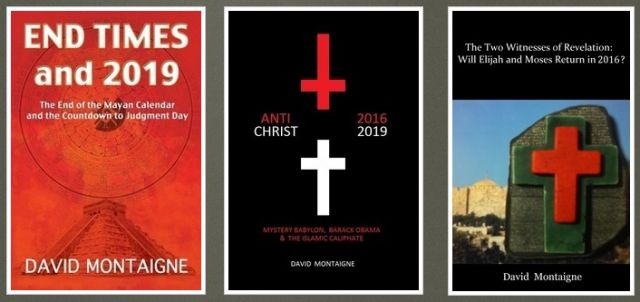 We encourage you to Share our Reports, Analyses, Breaking News and Videos. Simply Click your Favorite Social Media Button and Share.