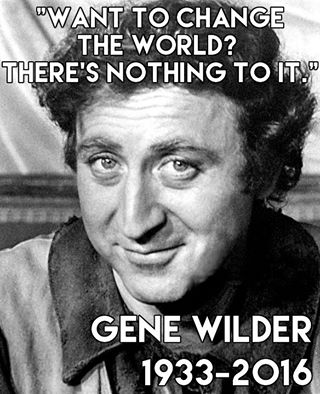 Gene Wilder, who brought a wild-eyed desperation to a series of memorable and iconic comedy roles in the 1970s and 1980s, has died, his lawyer, Eric Weissmann, said.
He was 83.
Wilder is best known for his collaborations with director Mel Brooks, starring as the stressed-out Leo Bloom in Brooks' breakout 1967 film "The Producers" and later in the monster movie spoof "Young Frankenstein." He also portrayed a boozing gunslinger in "Blazing Saddles."
Brooks called Wilder "one of the truly great talents of our time" in a statement Monday.
"He blessed every film we did with his magic & he blessed me with his friendship," Brooks wrote.
But for many people, Wilder might be best remembered for "Willy Wonka and the Chocolate Factory," playing the mysterious candy tycoon in the 1971 adaptation of Roald Dahl's book.
Wilder continued to star in numerous comedies, with less consistent success. That included several films with Richard Pryor, including "Stir Crazy" and "Silver Streak," as well as solo vehicles like "The Adventures of Sherlock Holmes' Smarter Brother" and "The World's Greatest Lover," which he also directed.
In a 2005 interview with CNN, Wilder discussed how he met Brooks, having been cast in a play opposite the director's then-girlfriend, Anne Bancroft.
"That led to 'The Producers' and 'Blazing Saddles' and 'Young Frankenstein,' but because I was miscast in a play," Wilder said. "And it changed my life."
Source YOUTUBE and CNN
Check out more contributions by Jeffery Pritchett ranging from UFO to Bigfoot to Paranormal to Prophecy
We encourage you to Share our Reports, Analyses, Breaking News and Videos. Simply Click your Favorite Social Media Button and Share.