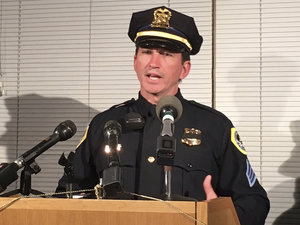 Two police officers in the Des Moines, Iowa, area were shot and killed early Wednesday as they sat in their squad cars.
"The shootings appear to have been ambush-style attacks," police spokesman Paul Parizek said in a statement.
The first shooting happened shortly after 1 a.m. local time, police say, and the second about 20 minutes later.
The two officers were sitting in squad cars about three miles away from each other — one in Des Moines proper and one in Urbandale, a Des Moines suburb. The two officers did not appear to have interacted with each other before the shooting.
Authorities say they are "developing suspect information" but have not released any information on a suspect.
"Parizek was emotional during a news conference," The Associated Press reports. "He says there is 'clearly danger' right now for police officers in the area because the officers were gunned down while sitting in their cars doing nothing wrong. He says the department has doubled up its officers to better protect them."
Source NPR.org
Check out more contributions by Jeffery Pritchett ranging from UFO to Bigfoot to Paranormal to Prophecy