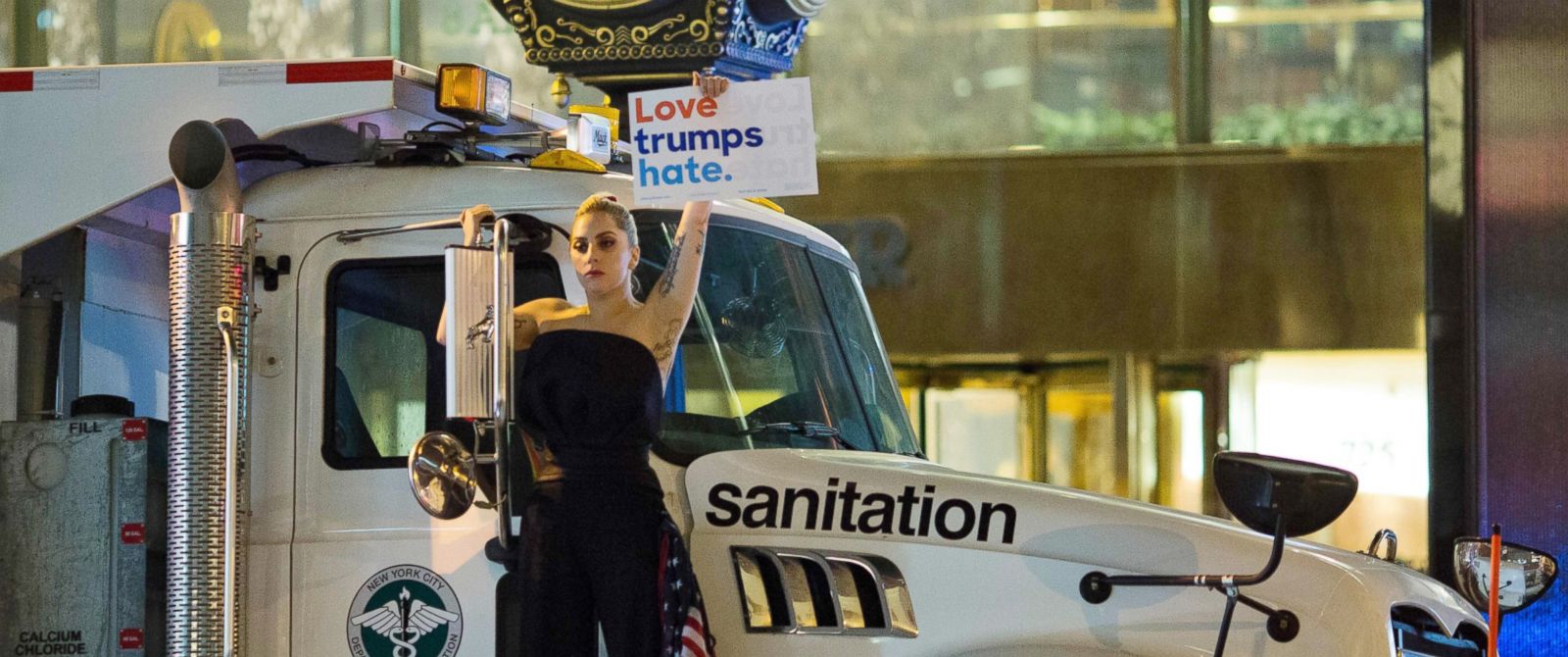 Dominick Reuter/AFP/Getty Images
Lady Gaga stages a protest against Republican presidential nominee Donald Trump on a sanitation truck outside Trump Tower in New York City after midnight on election day Nov. 9, 2016.
Lady Gaga held a protest of one at Trump Tower after it became clear that Donald Trump would win the presidency.
Propped up on the side of a New York City sanitation truck, the Hillary Clinton supporter and native New Yorker held up a sign that read "Love trumps hate."
"I want to live in a #CountryOfKindness #LoveTrumpsHate He divided us so carelessly," she wrote on social media, posting a photo of herself in front of the building. "Let's take care now of each other."
Trump captured the presidency from Clinton after grabbing key battleground states and even snatching traditional Democratic strongholds from the former secretary of state.
Earlier, Lady Gaga awaited the election results at Clinton's election night party held at the Jacob Javitz Center in Manhattan. She tweeted out several photos and videos.
"In a room full of hope, we will be heard," she wrote. "#blacklivesmatter Stand up for kindness, equality, and love."
She posed with tennis star Billie Jean King, who was also watching the returns at the Javitz Center.
"GO HILLARY LETS DO THIS YOU'RE our CHAMPION!" she wrote. Gaga began the day early Tuesday morning at Clinton's final rally in North Carolina, where she performed and gave a moving speech about the first female presidential nominee of a major party.
"She has a career in politics that spans decades of experience, education, leadership, and wisdom. She's ready to be president," she told the crowd.
Later, the singer returned to New York, where she voted and encouraged others to go to the polls.
JUST VOTED! And YOU should too! Every vote counts!
Source ABCNews.com
Check out more contributions by Jeffery Pritchett ranging from UFO to Bigfoot to Paranormal to Prophecy
We encourage you to Share our Reports, Analyses, Breaking News and Videos. Simply Click your Favorite Social Media Button and Share.