Seen.life is one example of a great alternative to government-run social networks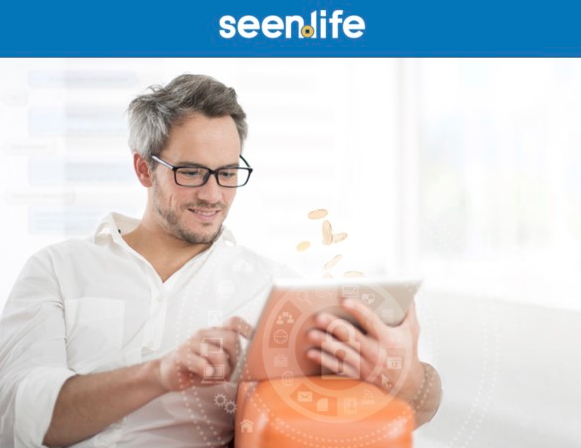 Bin Note: I have had many posts deleted from Facebook and been suspended for sharing to groups. Its just been so bizarre I have just about stop using Facebook to promote. I've had posts completely vanish from Facebook and then gotten weird warnings about paranormal articles and it made no sense to me and was completely bizarro. The following post below is about the craziness of Facebook deleting posts and then check into Seen.Life for more information on a safer internet existence in a world gone mad.
Several posts written by Facebook CEO Mark Zuckerberg, including two lengthy posts about fake news and the U.S. presidential election, temporarily vanished from his Facebook page on Tuesday before reappearing later in the day.
A Facebook spokesperson told Business Insider that "around 10″ of Zuckerberg's posts were deleted by mistake and that he still "stands by the words in his posts."
As first noticed by The Verge, one of the missing posts was a November 12 post by Zuckerberg that included his reaction to the U.S. presidential election and Facebook's role in spreading hoax stories that some observers believe may have helped President Elect Donald Trump win the election.
Another post on November 19 outlined steps the social network is taking to battle the distribution of "misinformation," which many have accused it of handling with negligence in the months leading up to the election.
The posts are now visible again on Facebook.
"These posts were removed by mistake," a Facebook spokesperson said. "This was caused by an error in one of our systems and the posts have now been restored. Mark's account was not compromised, and he stands behind the words in his posts."
It's worth noting that Facebook has suffered from some major bugs recently, including one earlier this month that briefly affected Facebook user profiles, including Zuckerberg's, and incorrectly stated that the users were dead. via BusinessInsider.com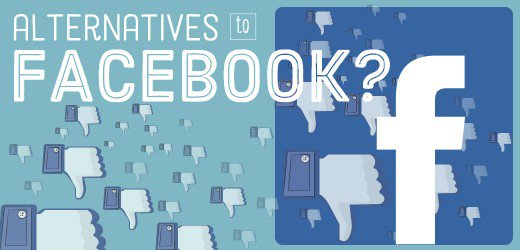 Enter Alternative Social Networks.
There are now a variety of alternative social network which are making themselves known. Some are CIA cutouts, others are the real deal. Discriminating between the two can be quite challenging. However, there are some basic litmus tests which can be applied with confidence. Closely comparing different social networks according to certain key criteria is a very good place to start in any event.
For example Seen.life provides an excellent social network platform that permits the discussion of some of the most sensitive and radioactive issues of the days. Any social network (SN) that provides a protected space for topics like Pizzagate cannot be owned and operated by the CIA. Pizzagate is as radioactive as it gets and certainly poses a dire threat to the world power structure; therefore, it acts as an effective litmus test of authenticity. No, not necessarily foolproof, but pretty darn good.
The essential issues here concerns privacy and content. Does the SN provide adequate safeguards for privacy and use of posted information? Does the SN create space for the discussion of some of the most weighty subjects of our times? Are the pages and posts, forums and chat rooms so censored that Alt Media truth is removed as quickly as it is replaced with MSM fake news?
If a social network does not measure up to the most basic journalistic standards, why even go there? That the phony Snopes is being used to fact check news stories posted on Facebook is as Kafkaesque as it gets; so why bother using such a censored social network?
Seen.life, on the other hand, does no such censoring. Unlike Facebook, their policies are extremely fair and even-handed, open to all points of view, and not dictatorial as Mark Zuckerberg has proven to be time and again. Seen.life has been accurately described in the press release that follows: Best New Social Media Site – Seen.Life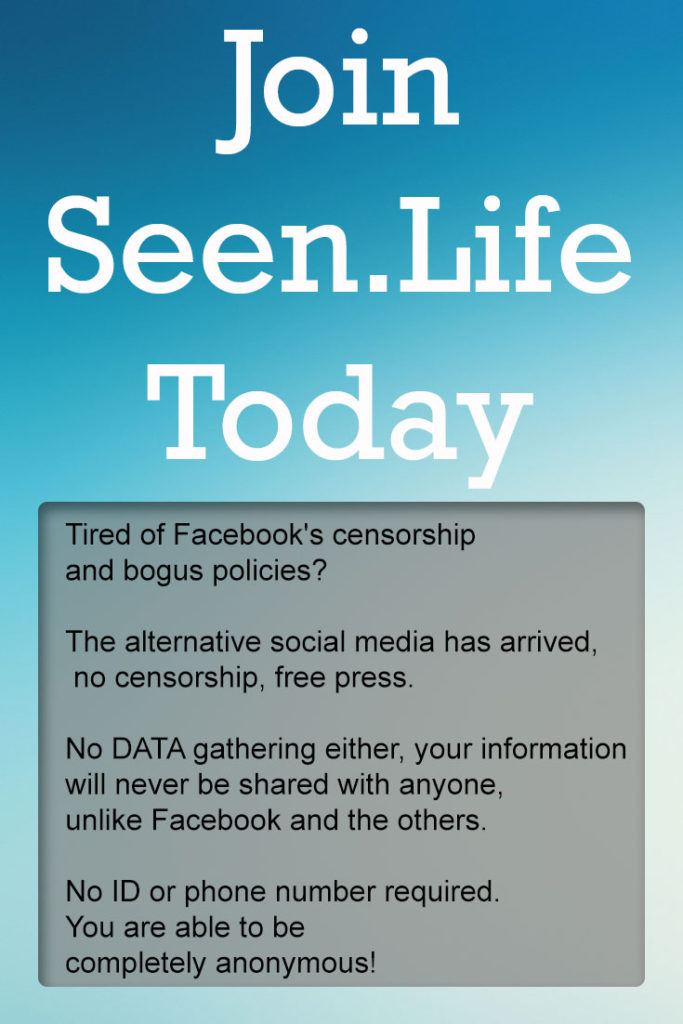 Thanks To Millenium Reporter
Check out more contributions by Jeffery Pritchett ranging from UFO to Bigfoot to Paranormal to Prophecy
~~~~~
Most people who use social media have figured out that Facebook and Google are in cahoots with the government. For those who are well aware of the issues, it's high time you switched over to Seen.life. It is a website that is similar to Facebook but without all the censorship.
Firearm friendly, you may buy sell or trade anything allowed by site TOS rules.
We encourage you to Share our Reports, Analyses, Breaking News and Videos. Simply Click your Favorite Social Media Button and Share.