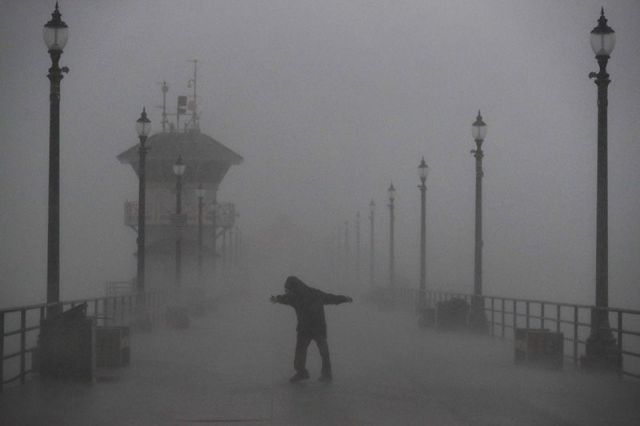 A powerful Pacific storm blew into Southern and Central California on Friday with wind-driven heavy rains that downed power lines and electrocuted a man, killed a motorist in a submerged car and disrupted hundreds of flights at airports.
With the storm feeding on an atmospheric river of moisture stretching far out into the Pacific, precautionary evacuations of homes in some neighborhoods were requested due to the potential for mudslides and debris flows.
More than 300 arriving and departing flights were delayed or canceled at Los Angeles International Airport. (AP)
At least four people died as the result of heavy rains and intense winds brought on by a powerful storm in Southern California.
Heavy precipitation covered the roads in San Diego with at least eight inches of rain, causing a pair of fatal crashes, while mudslides, rushing water and falling trees caused significant damage and left at least two more people dead.
California Highway Patrol reported that a car struck multiple vehicles, killing one person and leaving three injured after hydroplaning on across Interstate 15 in San Diego.
A woman was killed in a two-car collision on Interstate 15 north of Interstate 805 when her vehicle crashed into the back of a truck on the side of the freeway ramp.
San Bernardino Fire rescued one person and found one more dead after swift waters swept several vehicles downstream and submerged them in water.
A 55-year-old man died after being electrocuted in the Los Angeles area when he came in contact with a downed power line. A large tree was downed in the area, bringing several power lines down along with it.
More than 100,000 people across Southern California lost power and evacuation orders were issued for areas affected by last summer's brush fires as police feared potential mudslides.
A pair of sinkholes opened up near Studio City and along Interstate 15. The first swallowed two cars and left one person injured and a truck fell into the second, but no injuries were reported.
A landslide measuring 300 yards wide and 1,000 feet long threatened four homes, two of which were uninhabited and a San Bernardino County fire station.
Fearing potential flooding, officials in the Bay Area closely monitored the Anderson Reservoir, which stands at 99 percent capacity.
Travel was made difficult or impossible as police warned residents to remain off the roads and hundreds of flights from local airports were delayed or canceled.
About 250 Southwest Airlines flights to and from various parts of Southern California were canceled. American Airlines also canceled almost 50 flights from Los Angeles International Airport.
The slow-moving storm is expected to bring about 2 to 6 inches of rain to the area before moving out on Saturday. Another storm is expected to move into the area early next week, following a short break on Sunday.
Source FOX and UPI.com and YOUTUBE
Most people who use social media have figured out that Facebook and Google are in cahoots with the government. For those who are well aware of the issues, it's high time you switched over to Seen.life.
Seen.life is a website that is similar to Facebook but without all the censorship. Firearm friendly, you may buy sell or trade anything allowed by site TOS rules.
Check out more contributions by Jeffery Pritchett ranging from UFO to Bigfoot to Paranormal to Prophecy
We encourage you to Share our Reports, Analyses, Breaking News and Videos. Simply Click your Favorite Social Media Button and Share.