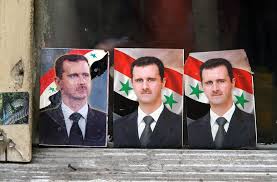 Freudian Slip? Sean Spicer: White House Spokesman Sean Spicer made an apparent verbal slip on Monday when he said at the White House press briefing that a goal of the United States is "to make sure that we destabilize Syria."
Spicer immediately followed this by saying the U.S. wanted to "destabilize the conflict there, reduce the threat of ISIS."
Syria definition. Republic in the Middle East, bordered by Turkey to the northwest, north, and northeast; Iraq to the east and south; Jordan to the south; and Israel, the Mediterranean Sea, and Lebanon to the west. Its capital and largest city is Damascus.
Bashar Hafez al-Assad is the 19th and current President of Syria, holding the office since 17 July 2000.
Freud·i·an slip
ˌfroidēən ˈslip/
noun
an unintentional error regarded as revealing subconscious feelings.
Check out more contributions by Jeffery Pritchett ranging from UFO to Bigfoot to Paranormal to Prophecy
~~~~~
Most people who use social media have figured out that Facebook and Google are in cahoots with the government. For those who are well aware of the issues, it's high time you switched over to Seen.life. It is a website that is similar to Facebook but without all the censorship.
Firearm friendly, you may buy sell or trade anything allowed by site TOS rules.
We encourage you to Share our Reports, Analyses, Breaking News and Videos. Simply Click your Favorite Social Media Button and Share.