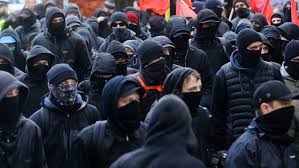 Here's what happened at Berkely last weekend:
The following is a summary of several reports and social media posts.
There was an anti marxist/ anti communist demonstration by conservatives. When approximately 2, 000 legitimate anti communist / conservative demonstrators arrived, (a number the media won't admit to but you can extract if you read between the lines or get eyewitness accounts) 400 police disarmed every single one, confiscating skateboards and even items like umbrellas that might conceivably be used as weapons before allowing them to enter a fenced off area that police had tightly controlled via a single entrance choke point. Things were fine for several hours, and then, at 1 PM 100 antifa protestors showed up.
CITING SAFETY CONCERNS, THE 400 POLICE DID NOTHING AT ALL TO DISARM THE 100 ANTIFA PROTESTORS, AND INSTEAD LET THEM GO INTO THE FULLY FENCED OFF ANTI COMMUNIST DEMONSTRATION THAT ONLY HAD ONE ENTRANCE AND THE POLICE THEMSELVES COMPLETELY DISARMED, and the police then just stood by and watched Antifa beat the crap out of the completely peaceful protesters who were cornered in a fenced off area, with golf clubs, pipes, and nailed baseball bats.
So once again, just like Charlottesville, the police played a pivotal role in making it happen. And these are the same police Trump decided to allow to have access to military weaponry again!
Contrary to reports being stated in the scamming MSM, the conservative anti communist demonstrators numbered over 2,000 and did nothing at all wrong. Then approximately 100 Antifa arrived, and started bashing the peaceful demonstrators. The scamming MSM then says the police "lost control of the hundreds of people and all hell broke loose" but as usual that is a lie, in reality the police lost control of nothing and simply let a comparatively small group of invaders have their way, completely unopposed all the while they could have been easily stopped at a well controlled choke point. In the end, for show, the police arrested 13 people, but there is absolutely no word about whether or not they arrested violent antifa, or if the police arrested people who found a way to defend themselves. I'd bet Antifa was untouched.
At least SFgate has an accurate headline, but the devil is in the details here, in reality the conservatives outnumbered the violent antifa by about 20:1 and could not defend themselves. They simply had nothing at all to hit back with. Obviously the police set this all up, and played an active part in making Antifa's attack go off without a hitch. And that is precisely how things go when communists subvert a nation.
Don't be fooled by the MSM now "turning on Antifa", that's a hoax, the two are one and the same. But now that antifa has become unpopular, the media has to distance itself.
We encourage you to Share our Reports, Analyses, Breaking News and Videos. Simply Click your Favorite Social Media Button and Share.